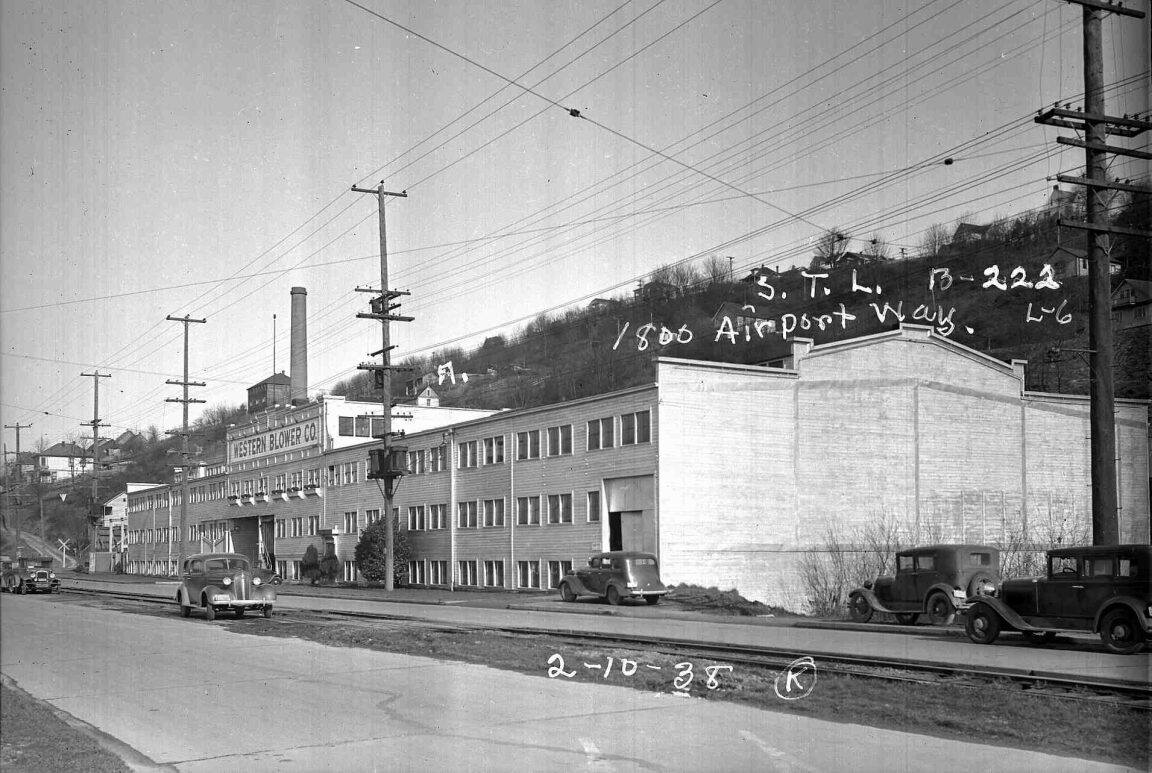 Image caption: ETS expanded to 1700 Airport Way in 1997, the current location of our Seattle clinic! Pictured in 1938.

Evergreen Treatment Services (ETS) has been transforming lives and communities through innovative and effective addiction services for five decades. A lot has changed in 50 years. In our "ETS by the Decades" blog series, rather than attempting a full history of substance use treatment and homeless services—topics on which many volumes have been written—we share how select major U.S. events, policies, and public opinions influenced ETS's services and practices.
For the second blog in the series, we explore the 90s—two decades after ETS first incorporated.
---
The 1990s saw the rise of one of the most pressing public health crises to date: HIV/AIDS. The epidemic brought harm reduction practices to the forefront of care, especially for the injection drug use population that ETS served, but not before ineffective policies harmed many. AIDS hit LGBTQIA+ and communities of color the hardest—as such, the haphazard large-scale response was heavily influenced by racism, homophobia, and xenophobia.
In July of 1990, Congress passed the Americans with Disabilities Act. This historic legislation included HIV status as a protected identity. Even still, clients who were HIV-positive continued to experience the harmful impact of stigma. Jackie, a psychiatric nurse practitioner who joined ETS in 1990, recalls, "although the needle exchanges allowed the population using injection drugs to quickly lower their transmission rates, there was a lot of fear about providing them care," and patients living with HIV experienced a lot of isolation. Providers sought to foster the connections that are essential to the relationship-centered care ETS provide. Read more about Jackie's 30+ years with ETS in her blog.
Harsh laws fueled by the war on drugs did little to lower the rates of HIV transmission. Under President Bill Clinton's "tough on crime" administration, the $30 billion Crime Bill passed in 1994. This funded hundreds of thousands of new prison cells and required life sentences after three strikes, significantly increasing the number of people incarcerated for non-violent, drug-related crimes.
Further, Clinton's administration upheld a Reagan-era ban on federal funding for needle exchanges, leaving the decision up to the states. All the while, HIV continued rapidly spreading through the injection drug use population.
The punitive approach ran deep. Injection drug users with a positive HIV status were blamed for the HIV/AID and drug use epidemic—though these epidemics were much bigger than anyone's individual actions. Barred from widely accessible public health resources and forced to hide their behavior for fear of punishment, the injection drug using population was pushed into environments that contributed to harmful substance use or increased exposure to HIV.
The general public remained skeptical about the effectiveness of care that deviated from an abstinence-based model. Harm reduction was an "underground term" when former executive director Molly Carney first met Ron Jackson, our second executive director, in the 1990s. "Harm reduction means working with people incrementally at the pace that works best for them. It's not a top-down approach. It means meeting people where they are." It also meant pushing back on the criminalization of drug use that only exacerbated fear and stigma.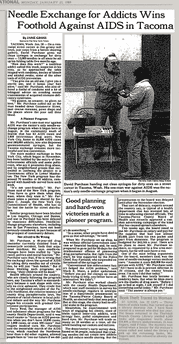 Methadone treatment helped inform how healthcare tried to minimize the spread of HIV. Instead of enforcing abstinence or attempting to eliminate substance use completely—both unrealistic agendas that were more damaging in the long run—the medical world utilized harm reduction practices in earnest. Encouraging use of clean needles and offering education to reduce risk became essential tactics to mitigate the spread of HIV.
ETS is rooted in connecting folks with the necessary resources to make decisions that honor their dignity and autonomy. ETS has remained committed to providing education for the patient population to keep themselves safe and reduce risk, specifically around HIV and hepatitis C. In the 90s, ETS referred patients to the nation's first syringe exchange program, established in 1988 by the Tacoma Needle Exchange. Needle exchanges allowed the injection-use population to lower their rates of illness.
The demand grew for harm reduction models like ETS's. Ron Jackson, executive director for over thirty years, saw the need for social services and recovery support grow throughout the 90s. REACH was established in 1996, aiming to address the need for street-based outreach amidst the waves of overdose and HIV-related deaths. ETS moved to 1700 Airport Way in 1997 to expand the clinic's footprint to serve more people—the current location of our Seattle clinic! To read more about these changes, including the launch of the third mobile methadone clinic in the US, check out Ron's blog.
In the next installment of the ETS through the decades series, we'll explore the rise of prescription drugs and big pharma in the 2000s.