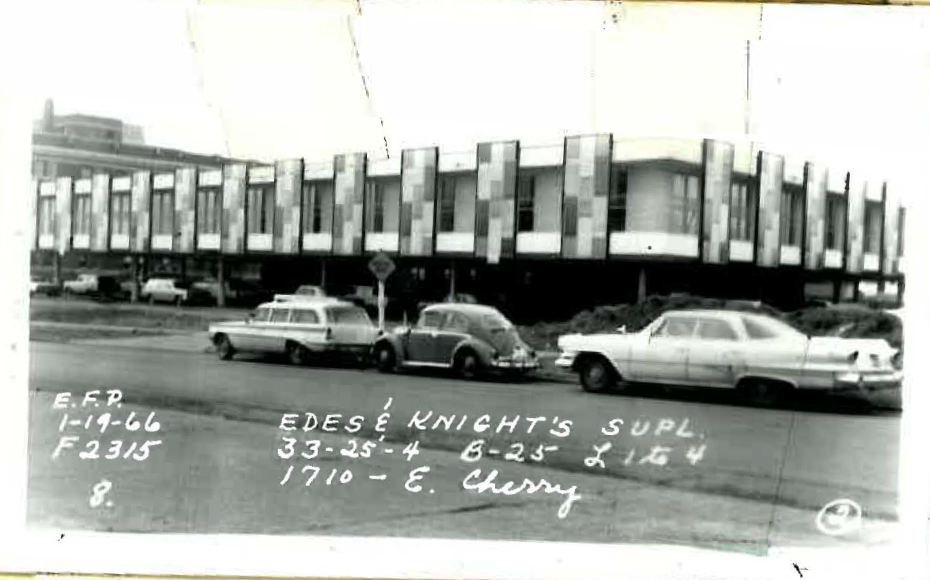 Image caption: The original service location of ETS, as it stood in 1966, just before it was remodeled for clinic use (Puget Sound Regional Archives)
Evergreen Treatment Services (ETS) has been transforming lives and communities through innovative and effective addiction services for five decades. A lot has changed in 50 years. In our "ETS by the Decades" blog series, rather than attempting a full history of substance use treatment and homeless services—topics on which many volumes have been written—we share how select major U.S. events, policies, and public opinions influenced ETS's services and practices. 
In this blog, we tackle the first years of ETS, the 1970s and 80s.
---
In 1971, the Nixon administration declared the now infamous War on Drugs, an effort to combat problematic drug use in the U.S. through a punitive approach with stricter penalties, enforcement, and increased incarceration. This declaration reflected the understanding people had at the time—and many still have—of addiction; it was seen as an individual moral failing that required "tough love" and punishment rather than seeing addiction as the cumulative result of health and human services system failures, oppression and inequity, and individual and collective traumas. Paired with this more punitive approach, the Drug Enforcement Agency (DEA) was also established in 1973.
In the same timeframe, the Food and Drug Administration approved methadone for the treatment of substance use disorder, given the evidence of methadone's effectiveness in reducing drug-seeking behavior. In addition, the Nixon administration also approved an amendment to the Controlled Substances Act that allowed for the use of an opioid to treat opioid use disorders—further opening the doors to opioid treatment programs.
These approvals, along with the widespread belief that people who use drugs are immoral demonstrate that even back in the early 1970s, public attitudes toward addiction and the science around the most effective treatments did not align—a challenge we still face today.
ETS opened its doors as Central Breakthrough Maintenance Program on May 21, 1973. According to then Executive Director Tom Odell, this was a "totally new field." Only two clinics of its kind existed in Seattle, and one had just filed for bankruptcy. A team of 14 staff served around 200 patients at a clinic on Cherry Street in Seattle's Central District.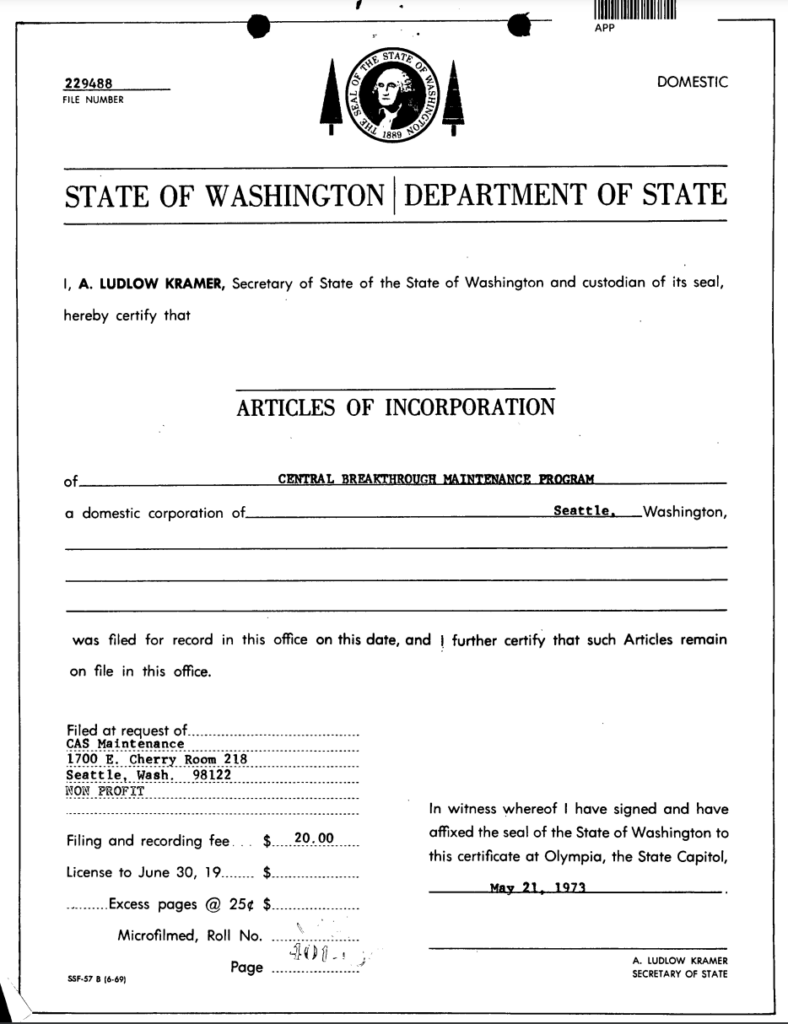 Tom describes the difficulty of operating during that time: "There's this sense that people are fully responsible for their own behaviors, but how do you get out of the 'wrong' part of society when you have nothing else?"  To hear more from Tom about those early clinic years, read his story "Treating People with Dignity" on our blog.
Only a year after opening its doors, the need for more treatment was so great that the clinic moved to a new, larger location on 23rd and Union that could serve more community members.
As the years went on, the need for treatment only grew while the environment for this treatment became more fractious. In 1979, Ron Jackson became ETS's executive director building on his experience at an opioid treatment program in Corpus Christi, Texas. The 80s were difficult years for ETS and for people who struggled with opioid use across the nation. This difficulty was fueled not in small part to the drug policy of the Reagan administration. As Ron Jackson explains: "Ronald Reagan really wanted to shut down methadone treatment, because he didn't believe in the idea of using medication to treat a chemical disorder." This lack of belief in methadone treatment, despite the evidence, led Reagan to sign the Anti-Drug Abuse Act that appropriated $1.7 billion to activities that strengthened the punitive approaches to drug use that characterized the War on Drugs.
During the 80s, the U.S. also saw the rise of the "Just Say No" campaign that was championed by First Lady Nancy Reagan. While the campaign was intended to reduce peer pressure and stop drug use before it began, one of its longer-term effects was to ingrain the belief that personal choice is a key driver of addiction, and that with strength and personal will people should be able to stop using without the support of medication and recovery services.
Despite these challenges, ETS did not stop growing to meet the need. In 1982, as one of Ron Jackson's primary objectives as executive director, Central Breakthrough Maintenance Program changed its name to Evergreen Treatment Services and moved to the Lower Queen Anne neighborhood of Seattle where it operated for only six years before outgrowing that location and finding a home in Pioneer Square.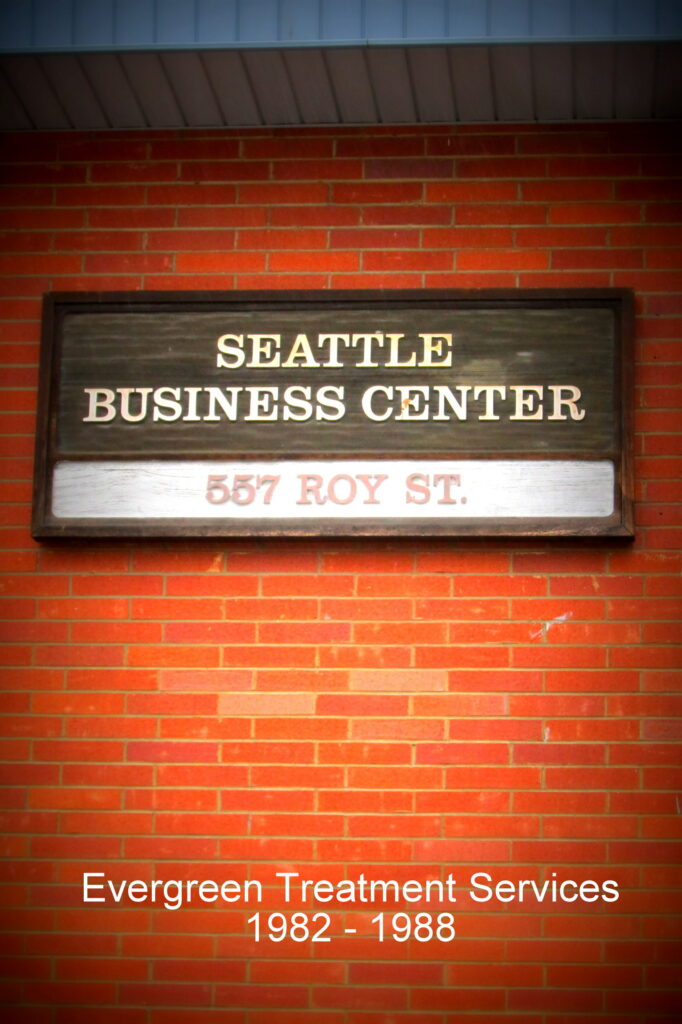 Even as he worked to expand the agency to serve more of the community, the needs of patients and staff remained top priorities for Ron. "You can't predict how patients are going to respond to the treatment or how staff are going to work together. Things that you think are going to work don't and things you don't think will work do. Our best bet was to provide as much consistency as we could. That way patients grew stable relationships with their care providers—they wouldn't have to introduce themselves to a new medical director or a dispensary nurse every six months. That also meant caring for our staff, so they felt happy, fulfilled, and had the resources they needed to do their work well."
Throughout all this growth and the evident need for services, Ron was frustrated with the constant lack of funding to operate. "It's incredible we had to fight for legitimacy and face stigma after the amount of research that exists. The people who suffer most are those with the least resources."
We look forward to sharing more about ETS's growth throughout the decades in our next blog, all about the 90s and the rise of the AIDS epidemic.