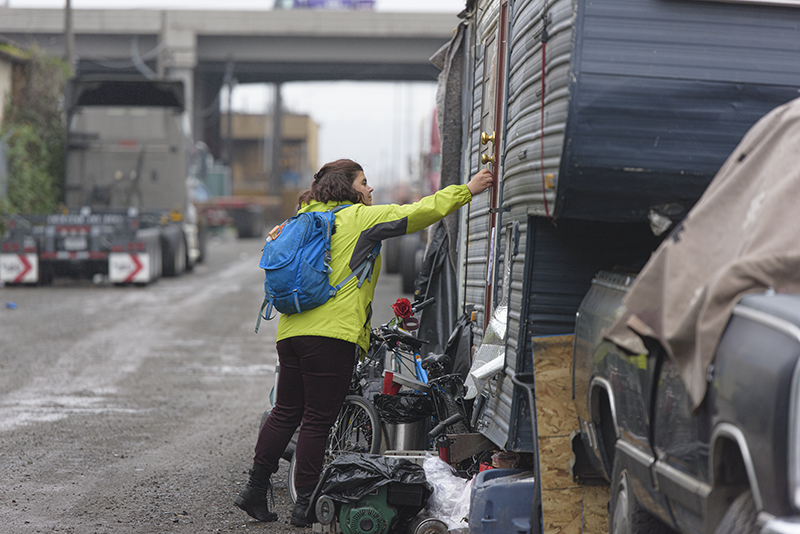 Photo credit: Jim Meyers, Vertizon Photography
"U District Partnership got a call from a business that a woman was in obvious emotional and mental health distress was outside of their storefront. They were concerned and asked if we could do something. As the local business association, we are responsible for the health and safety of people visiting, living, and working in the U District.
I went down to the store in question and had no problem identifying the woman in distress. She was clearly agitated and shouting. I tried to talk to her, but this had no effect. If anything, I seem to have upset her further. The police officers who arrived on the scene also tried to calm her down and they similarly failed.
That's when the REACH Neighborhood Care Coordinator David Delgado arrived. Within five minutes, the woman was calm and walking with David to the nearby King County crisis van. We all couldn't believe how expertly he handled the situation. Not only did it alleviate stress for the business that was trying to help, we also knew that the woman was receiving the care she needed.
David's incredibly capable and well-suited to this work. He can do things that well-meaning community members cannot. Now, when we have neighborhood meetings, it often turns into an unofficial David Delgado fan club."
–Marcus Johnson, Director of the Clean and Safe Program, U District Partnership
This story is just one example of how our REACH team is making an impact through neighborhood-based outreach programs. Since David started working with us just over six months ago, we've been building bridges between the people who are homeless in the U District, people who own and run businesses, and all other residents.
Without someone like David, businesses are forced to call on law enforcement to regulate the sidewalks around their storefronts. While many law enforcement officials—police officers and private security guards—are sensitive to the difficulties faced by people living outdoors, they are often not trained to handle behavioral health challenges like addiction and mental health conditions.
Since our original neighborhood partnership with the Ballard Business Alliance started nearly two years ago, this model of having outreach workers assigned to specific neighborhoods has taken off. We are now partnered with business associations in the U District, SODO, and the Seattle waterfront to provide outreach services to people who live unsheltered in these areas. We are also funded by the city to provide similar outreach in Capitol Hill, First Hill, and the International District.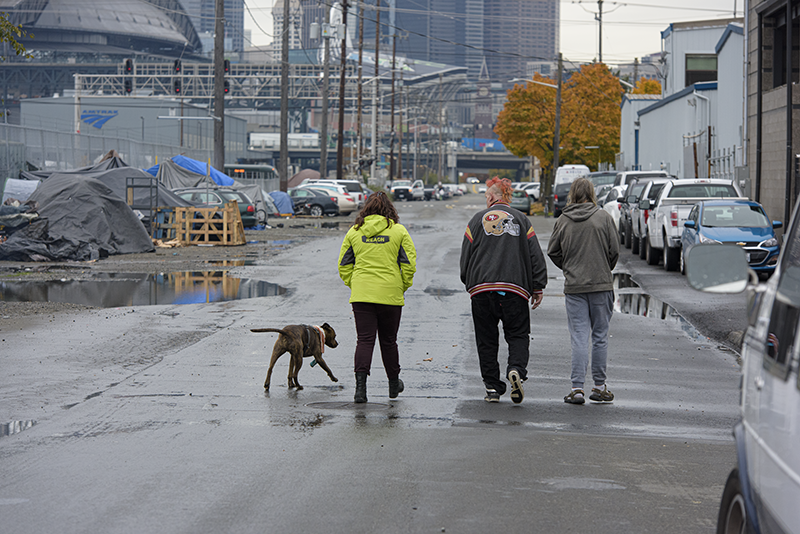 This model builds on our decades of expertise with outreach best practices. Since the establishment of REACH in 1996, we have been committed to a relationship-first strategy that allows people to guide how we work with them. It is critical to get to know and build trust with the people we serve. What is new about this model is that we are supported by local businesses and the community and can work collaboratively to solve challenges. When a community is invested in helping people who are homeless, we can match our care coordinators' skillsets with the highest priority needs of that neighborhood.
For example, in SODO, the community has a high prevalence of injection-drug use and requires someone knowledgeable about people who use drugs and can best connect people to the services they need. For the U District, the highest priority is supporting unsheltered people in mental distress. With this input from communities, we can find people with the right skills and training to manage the challenges that are specific to their neighborhood.
Another benefit of basing outreach in a neighborhood is that the care coordinator can develop relationships with the housed residents, businesses, and officials in the area. In many narratives around homelessness, housed and unhoused residents are pitted against each other. Our experience shows that these narratives aren't true. In developing these neighborhood programs, we have found that the overwhelming majority of Seattle's housed residents and businesses care about homelessness and are troubled by the crisis. They want to help, but in many cases, they just don't know how.
Paige Killinger worked in the Ballard neighborhood for two years before moving into a new role at REACH. Within a few months of working in Ballard, she was invited to speak at a community meeting where she was peppered with questions about how housed residents can best support and interact with people who are homeless. She was touched that many of the residents brought their children so they could learn how to see and respect the humanity of people living outdoors. She also made a concerted effort to build relationships with the various public responders in the neighborhood—a cast of characters including parking enforcement, first responders, police officers, and others.
In Paige's words, "The lives of my clients have been greatly improved by building long-term and trusting relationships with police and others. Having a neighborhood-based outreach coordinator lessens stress for businesses and responders while connecting unhoused neighbors to services they need."
Whether you live in these neighborhoods or not, you can help. First, if you are trained as a social worker and are moved by the work our incredible team is doing, consider joining us! We are a diverse team of compassionate, creative problem-solvers who dedicate every day to building a world where all people are treated fairly and receive the support they need to thrive.
In addition, while neighborhood-based care is effective, it is not a quick-fix solution. Relationship-building and tailored approaches are the best way to serve people, but they take time. We need your support in advocating for our programs with your city, county, state, and federal representatives to ensure these programs remain strong. Advocacy can also increase funding for the services people need like affordable and supportive housing, mental health, and addiction services.
Finally, care coordinators often supply their clients with jackets, food, temporary shelter, and other basic resources. We also ensure these coordinators receive ongoing training to stay at the forefront of our sector. Giving to REACH means supporting the people doing this work. By bolstering incredible people like David and Paige, you help everyone who lives unsheltered in Seattle neighborhoods get the services they need to improve their lives.