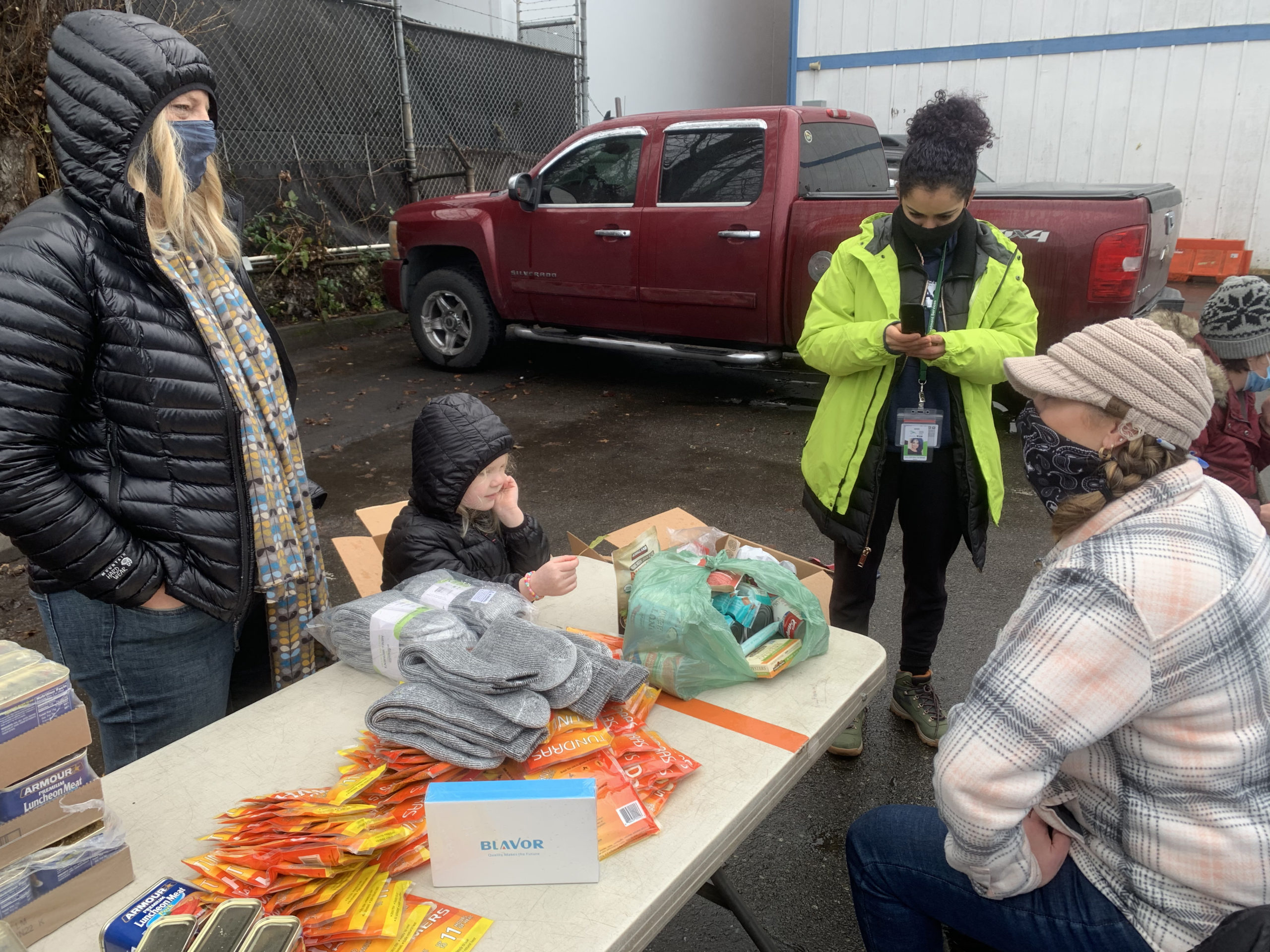 Throughout the pandemic and before, ETS has been providing support to unhoused people following a core principle of harm reduction: meet people where they are. Recently this has come in the form of REACH's one-stop-shop pop-up tents. These pop-up spaces are located near a food bank or another essential partner so patrons can get all the services they may need in one place. Last week, in addition to the usual services, they had a couple of additional people there to serve. Jennifer Nelson and her five-year-old daughter, Ruthie, stopped by for a visit.
Like many five-year-olds, Ruthie has a curious mind and is always questioning things she sees and observes. When driving around the city, Ruthie took interest in the people sitting on the street corners with signs. "What are they doing out there, mom?" Ruthie recently asked. Jennifer told her that they were most likely homeless and asking for help to which Ruthie promptly responded, "Then let's give them help."
Jennifer works for the SODO-based real estate firm Metropolist. Last year, before the social distancing measures were put in place as a result of the pandemic, we hosted an event at Metropolist to engage the community around REACH's neighborhood outreach work in SODO. Jennifer appreciated REACH's approach. "I was so impressed with REACH because they were physically in the encampments asking what services and products these people actually need. It was a real relational way of addressing homelessness," she said.
In response to her daughter's enthusiasm to help and based on her knowledge of REACH's programs, she reached out to see how she could get involved. The team at ETS let her know about our pop-up tent program and the opportunity these tents provide for community members and other organizations to coordinate services. Jennifer asked what products were most needed and they purchased socks, mobile phone chargers, blankets, boots, and more to bring to the pop-up location in Georgetown.
On Thursday, January 27, when Jennifer and Ruthie arrived at the pop-up, it was a rainy Seattle day, but REACH team members were there to help them unload and set up a table with supplies.  Jennifer met and received guidance from Dawn Whitson, the outreach team member in charge of the tent program in Georgetown, and then she and Ruthie began to give away their collection of items. With so many health services being provided via cell phone, Ruthie and Jennifer watched as people enthusiastically collected the solar cell-phone chargers first.
After an hour of volunteering at the pop-up Jennifer could tell Ruthie was moved by the experience. She watched a woman's bag break and was adamant they find her a new and much stronger bag, and after a woman tried on a pair of boots, Ruthie was delighted that they fit her perfectly. While she may not have been aware of the complexities surrounding the homelessness crisis, she hadn't yet lost the valuable empathy required to recognize that as humans, we're here to care for each other. When people need help, as far as Ruthie is concerned, you help them.
Jennifer and Ruthie plan to continue their relationship with ETS. When asked why they give, Jennifer said:
"There's a really cool format at the pop-up spaces. You can go and volunteer and see the people you're helping because REACH forms actual relationships with unhoused people. You can be sure your gift goes to things that will really help. We can't solve the whole homelessness issue immediately, but at least we can do something by ensuring the support we provide matches people's needs."