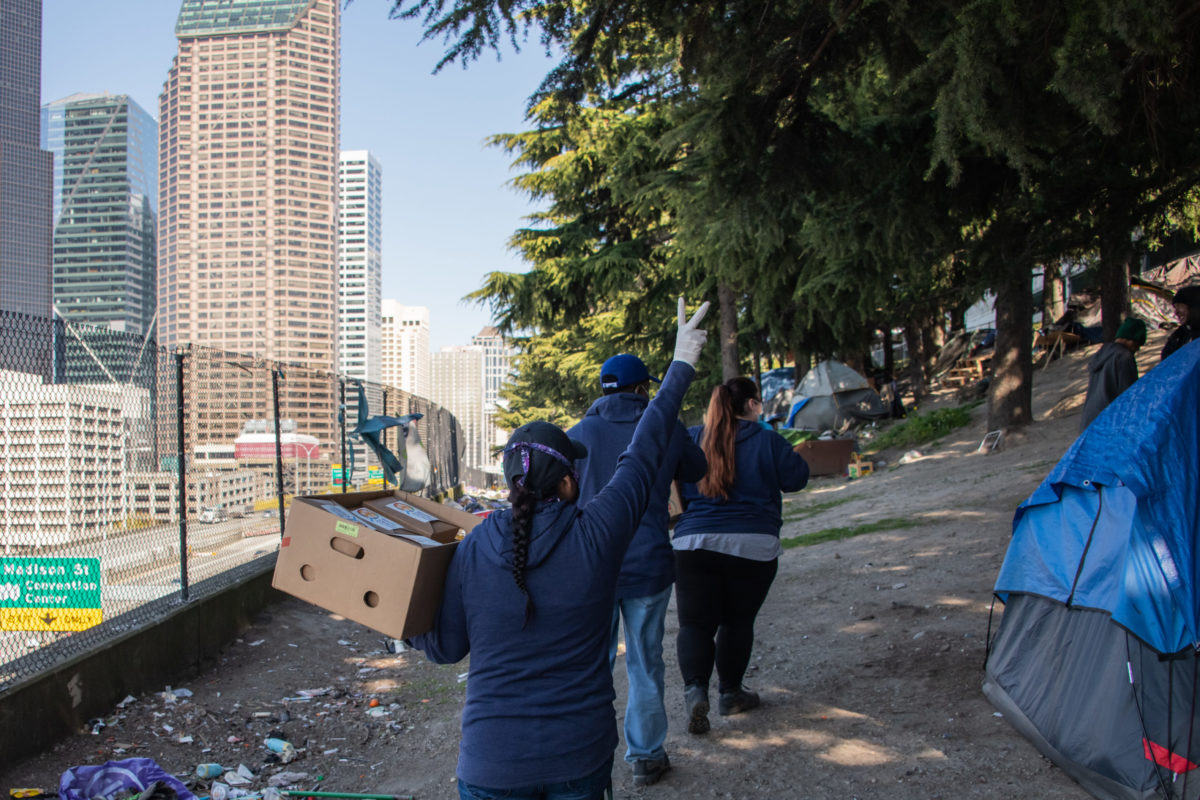 We want to give you an inside look at our response to the COVID-19 crisis from the points of view of our incredible staff. They've been working together to keep people safe and supporting our patients and clients as they continue the difficult, daily work of recovery.
We've asked some of our team members at REACH and our opioid treatment program to reflect on their experiences during the crisis so far, what they are challenged by, how they're taking care of themselves and anything good that might come out of this.  
Nichole Alexander is the REACH outreach care coordinator for the Seattle Waterfront. Prior to this crisis, she helped clients access housing, get government-issued IDs, and navigate social service systems. During the COVID-19 pandemic, many services that her clients depend on — food banks and meal programs, shelters, even public restrooms — have closed or limited access and hours. As a result, Nichole's role has shifted to providing basic needs like hygiene supplies and food. She also ensures that people who are exhibiting COVID-19 symptoms know where they can turn for support
You can read more about how ETS is responding to the crisis on our dedicated COVID-19 Emergency Fund page.
---
What we are all going through right now is tough. It's difficult to fear for your health and safety and that of your loved ones every day. But consider this: people who are homeless in my area of the city — a triangle-slice of downtown that spans from Ivar's on the waterfront, up to Yesler, and down First Ave to Pike Place Market — don't have soap and, with the closing of libraries, many shelter services, and the Pike Place public bathrooms, they don't even have running water.
Yet, they're told every day that washing their hands is the best way to prevent infection.
This is just the start. The people REACH works with are exposed to the elements all the time. Many of them are elderly with multiple health problems. Many use drugs and alcohol and may not even be able to differentiate symptoms of COVID-19 from the regular illnesses they struggle with. They're managing all of this without care, healthy food, or a warm bed. In short, it's been tough and emotionally draining to do outreach these past few weeks — the needs are so many.
It feels like my people, the people I care about and spend time with every day, are being forgotten.
But in this difficulty, I see a few things happening that are enough to keep me going. First, REACH is an incredible organization. My leadership and colleagues are rallying around our people in a way that is truly above and beyond.
REACH has a knack for hiring out-of-the-box thinkers, people who can trouble-shoot and find resourceful solutions to the pervasive lack of services. We've solved many of our clients' challenges by going to our personal and professional networks, asking people to make connections, and getting creative.
Second — and I think this is crucial — we're best positioned to help our people if they do get sick. As I noted, many of our clients are dealing with multiple health issues that have symptoms like COVID-19. In the same way that you notice if a friend or family member looks sick, often before they realize it themselves, the other care coordinators and I can do this with our clients. We see them every day and have built relationships with them. If someone looks feverish, is low-energy, or is coughing more than normal, we notice it more quickly than they do and are able get them care.
In addition to monitoring for illness, a lot has changed in the way we work since this crisis started. We do not have enough hygiene supplies. We've been filling little plastic cups — the things college students use to make jello shots — with soap and delivering them to our people.  Just today, we had enough soap to fill 150 little cups and we passed them out. That basically covers one encampment, so it's something but not enough.
My focus has been food because food banks have shut down or are providing limited access. I figure that if you're hungry, things like preventing COVID-19 fall to the bottom of your priority list. Hungry people can't think about anything else.
Through my networks, I've partnered with a company in Bellevue that makes deli items. I'm able to go over in the morning and pick up what they didn't sell the day before, things like salads, fruit cups, and chicken salads. We divvy up the food between REACH team members and then we deliver to people in Seattle. To date, we've passed out more than 2,000 items.
I've also been working with Pike Place Market Food Bank. They're still open but instead of people coming into the food bank, they're prepping grocery bags and no-cook bags for people to pick-up. Twice a week, I've been picking up no-cook bags and distributing to clients in my area that can't make it into the food bank. On Fridays, they let me take all the bags that haven't yet been picked up that week and we distribute them. For example, we just made peanut butter and jelly sandwiches from 23 loaves of bread and the team split them up and gave them to people who needed them.
Last week, we also started distributing 350 meals per day from World Central Kitchen and Tom Douglas Restaurants. We pick up these meals in the morning in industrial Ballard and give them to our people. It's great to see businesses like this stepping up to fill in the gaps of our emergency food system. I wish they didn't have to, but we're all in situations we'd rather not be in right now, and we need to do what we can.
We've been careful as we pass out food and other supplies. I work out of my car, so I can just pop the trunk and pull out food, warm clothes, or whatever people need. I take the items and set them on benches or ledges for people to come and pick up, making sure we're all staying six feet apart. I remind people that I haven't forgotten about them and that I'll be back tomorrow to check in.
Finally, I often go out with nurses in the waterfront area. They give vaccines for hepatitis A and B — since the crisis there has been an increase in infection rates for hep A due to closing public restrooms and the resulting hygiene crisis — and the flu. We also monitor clients for COVID-19 symptoms and provide other types of care to keep people out of over-burdened emergency rooms, things like wound care and burn care, and we check in on people who are self-isolating after experiencing COVID-19 symptoms.
REACH leadership has been encouraging us to take care of ourselves as well as our clients. I know I should be doing more but with so much going on, my self-care has been serving others. That's really the only thing that keeps me motivated.
Because we're all going through the same thing, I'm getting closer to my clients. These relationships make my job worth it.
If you're interested in supporting the life-saving work of REACH during this crisis, please donate now. To learn more about our response, visit our dedicated COVID-19 Emergency Fund page.
DONATE TO THE COVID-19 EMERGENCY FUND