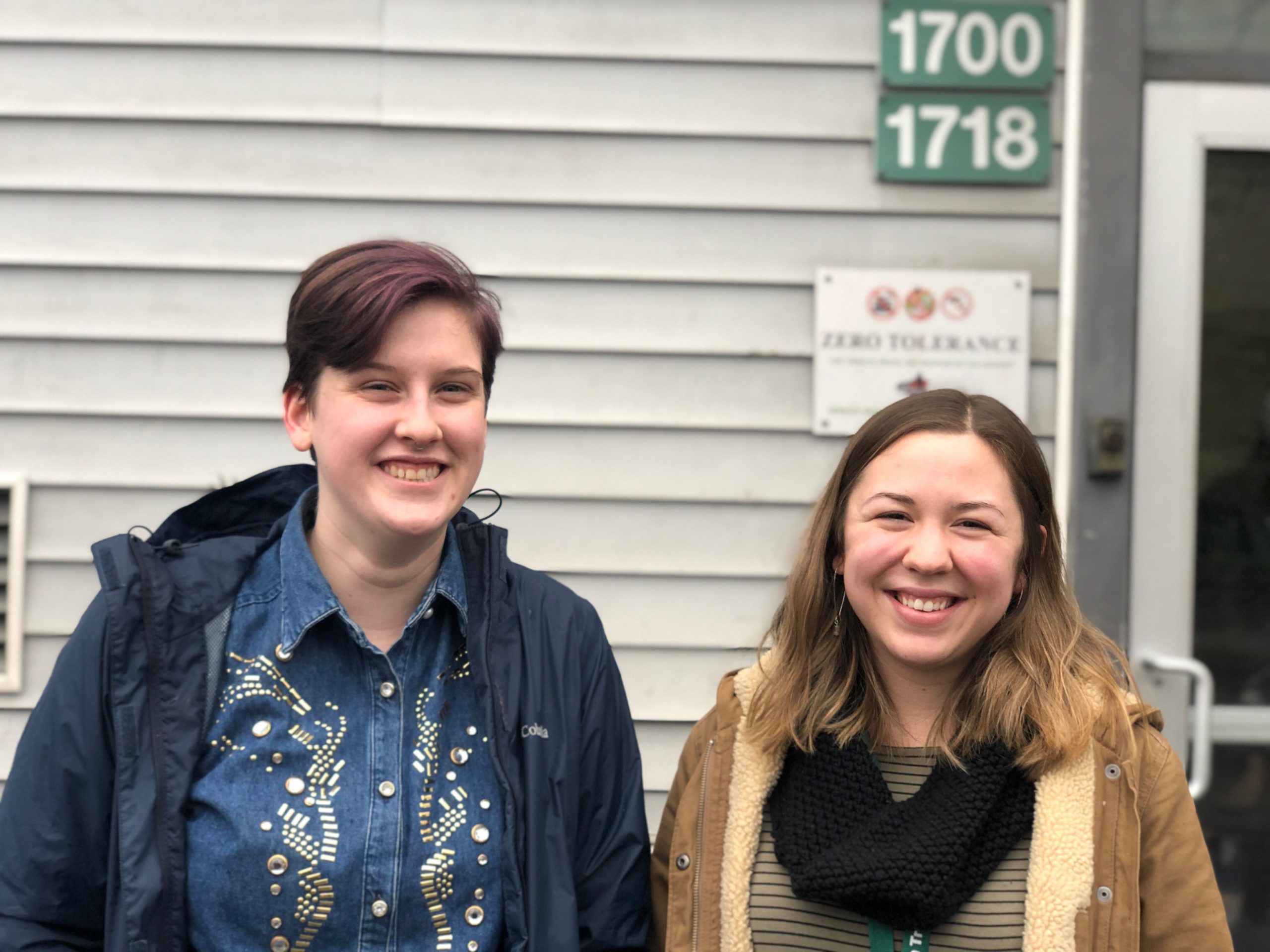 Tasha Pedersen and Kasey Cragg are both students at the University of Washington, pursuing Master's degrees in social work (MSWs). As a part of their first year in the program, all students are placed in internships that align with their career aspirations. We were lucky to have these two join us at ETS. They have already made their mark on our team and we are excited to continue learning from each other.
Kasey and Tasha came to our team with hands-on social work experience. In Tasha's hometown of Kodiak, Alaska, she worked with patients who were struggling with addiction. In her time there, she noted that addiction services and other behavioral health services like mental health operated in siloes. This seemed inefficient as these challenges are fundamentally related. Coming to ETS, she's been able to see mental health and substance use treatment work hand-in-hand, something that she plans to bring back with her when she returns to Alaska.
As for Kasey, ETS couldn't have been a better fit. After working in mental health treatment in Illinois, Kasey moved to Chicago where they performed direct outreach to people with mental health conditions. They wanted their internship to be at a methadone clinic to gain insight into the recovery process.
Day in the life
When we asked the two of them what a day looks like for an ETS intern, we were met with a long pause… "Every day is just so different," Tasha explained. Kasey quickly agreed. The two started listing off a menu of options: shadowing patients at the dispensary, sitting in on medical provider meetings, acupuncture, group sessions—the list goes on and on. In short, they are engaging in the full continuum of services we provide.
Strength in numbers
Recovery skills group has been an important component of their hands-on experience—they both see this as an important pillar of our program and have been intimately involved. This group focuses on recovery and drug refusal skills, often through role-playing with patients. These groups work through boundary setting and learning from patients what makes it difficult to refuse drugs, particularly from friends, family members, and others they are close to. Both interns reported that seeing a patient transform from a tentative group attendee to an active member who leans into the process has been incredibly rewarding.
Another group they are part of, the Dialectical Behavioral Therapy (DBT) group, focuses on helping patients deal with difficult feelings and emotions in the moments they arise. As many of these feelings are a result of previous trauma, they cannot be directly attributed to current experiences and are therefore very difficult to address. This form of therapy, and the group class, focuses on mindfulness and somatic awareness and developing patients' abilities to recognize their own internal feelings and sensations—a key component to recovery. Both Tasha and Kasey continue to take away unforgettable stories and practical skills from this class. Everyone—patients and staff alike—brings something special to the sessions.
Taking on a new challenge
After being energized by the group sessions, Tasha and Kasey are starting a new group, one that hasn't been a part of ETS offerings for a couple of years. The group class, called Seeking Safety, will be hosted with the support of a mentor and supervisor, Carol Davidson, a long-time ETS counselor. Similar to DBT, the group is focused on addressing existing trauma and how it relates to substance use disorder. Kasey, in particular, is interested in the intersection of trauma and addiction as trauma is incredibly common among our patients and most people who experience behavioral health challenges.
Mentorship
The two agree that mentorship has been an invaluable component of their experience at ETS. Carol Davidson is Tasha's supervisor and has been a crucial part of both interns' experiences, taking special time to make sure that they are developing skills and using their existing passions and skillsets to give back to ETS patients. Julie Albright, Kasey's supervisor, continues to inspire both Tasha and Kasey, as she wears multiple hats as the Seattle clinic manager—proving that an MSW opens more doors to clinic administration and leadership roles with social service organizations.
Armed with knowledge
Despite the effectiveness of medication-assisted treatment (MAT), medical providers and social service workers are rarely properly taught this form of treatment during their education. This lack only serves to further stigmatize this effective type of treatment.
Tasha and Kasey reported that while they both have experience working in and around these services, their MSW has yet to discuss MAT and that they wouldn't be surprised if some of their classmates graduate without knowing what this type of treatment is about.
ETS is looking to change the misconceptions around MAT within the medical and social service establishment and see our interns as a key piece of this puzzle. Tasha and Kasey have developed the language and abilities to effectively promote medication-assisted treatment in their professional lives,  fighting stigma with compassion among their classmates, colleagues, and communities.
Sights set ahead
Tasha sees this experience as crucial to bringing expertise back to her hometown. While she isn't sure what her next career step will look like, she does know that she wants to return to Alaska, ready to provide comprehensive and well-informed services to her community. This experience, she says, will arm her with necessary skills.
Kasey, interested in policy, is thankful for this crucial experience working directly with mental health and addiction. They believe that knowing the inner workings of the community health system is necessary in order to make improvements. Through a policy career, Kasey wants to build a system where all treatment of mental health and substance use is trauma-informed.
In addition to the hard skills they are developing, Kasey has been impacted by the freedom each counselor at ETS has to show up as their full selves at work and counsel patients in a way that is authentic. They are inspired to bring the same to every career step that they take.
Both Tasha and Kasey have appreciated how willing everyone at ETS is to teach and share their knowledge. In turn, ETS continues to appreciate everything we are learning from them.