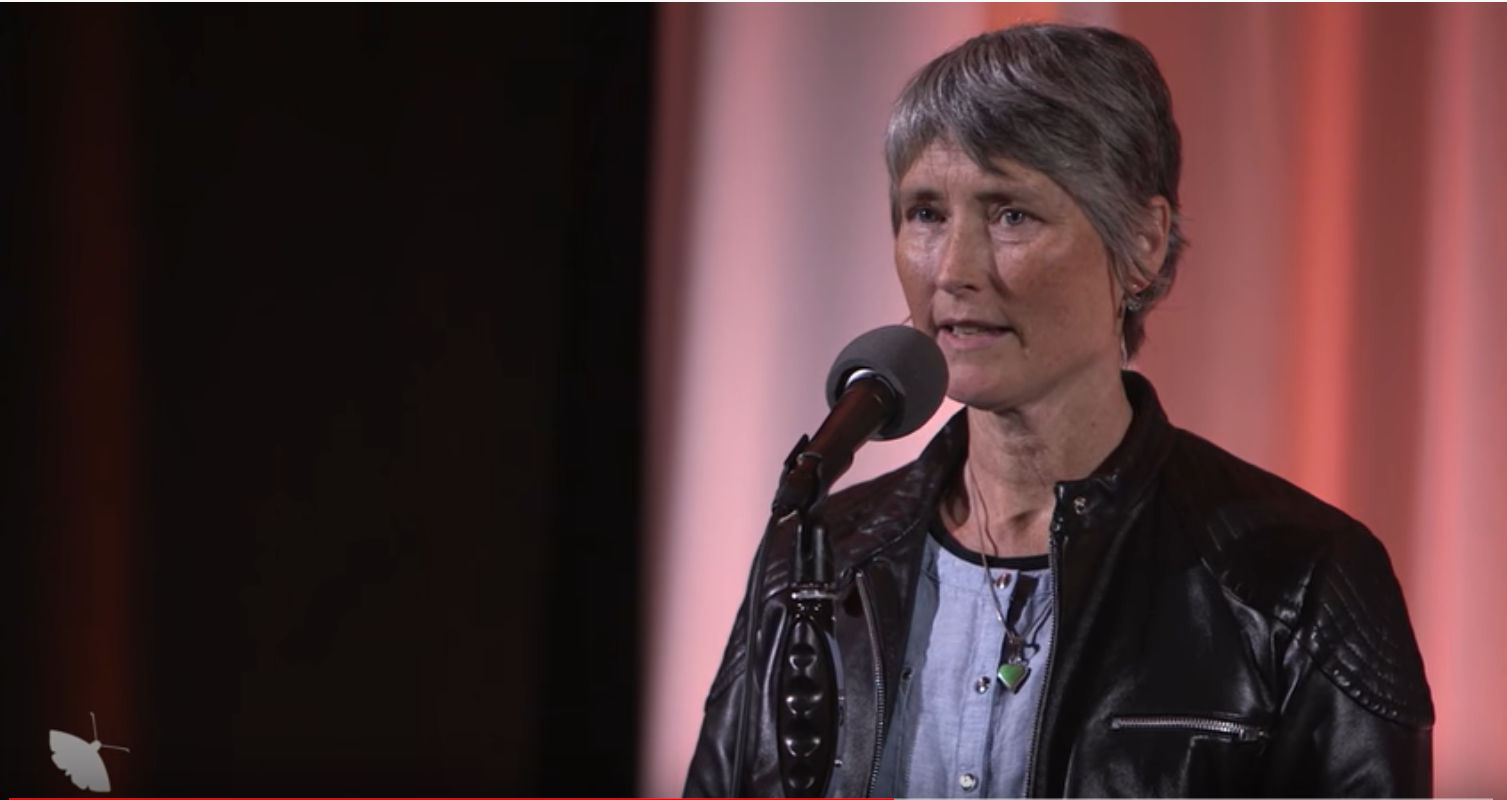 —Human connection comes first
By Kelley Craig
Kelley Craig is a co-director of the REACH program at Evergreen Treatment Services. In 2015, she told her story on The Moth Presents. That story is below. For the full performance, listen on YouTube.
I've spent a lot of time in public places with people who are drinking out of paper bags.
Nineteen years ago, I got a job as a case manager with people who were living outside and struggling with addiction. I'd worked in drug and alcohol treatment for 10 years, but this job was different. Instead of people coming in to see me I went to them and they didn't have to stop drinking or using in order to get services. This meant I spent a lot of hours trying to convince people who were intoxicated to go to appointments with me.
I carried a cell phone and a backpack full of paperwork and I walked a route where I knew each of my clients sat each day, in the same spot, drinking. I'd find one and they'd say, "how'd you find me?"
And I'd say, "I'm here to take you to your appointment at the Social Security office."
And they'd say, "not today, I'll go tomorrow."
I got into this work because I wanted to help people, and it seemed like the harder I tried, the more resistance I experienced. It was like a personal tug of war with 20 individual clients. And each night I went home to a warm house and felt guilty about the people I knew who were sleeping out in the cold.
One particular client I was very attached to and really concerned about was named Russell. Russell was 60 years old. He was Irish Cherokee, a little guy, about 5' 7" and rail thin. He had a grizzly beard and wore an Army green trench coat and a cap with bold letters that said "Korean War Vet" because he was. Russell sat on the same bench in Steinbrueck Park every day drinking wine and telling stories. I'd go find Russell and tell him about some appointment he had, and he'd launch into a story.
I'd say "Russell, let's go to the clinic today."
He'd say, "Did you know I wrote a letter to John John and Caroline when President Kennedy was killed?"
And I'd say, "Russell, your cough is getting worse. Let's go into the clinic."
And he'd say, "Did I tell you about the time I worked for that movie star on a ranch in California and how I rode the rails up to Seattle?"
One day everything came together and there was an apartment ready for Russell. All he had to do was go meet with the landlord. I went to his bench and I let him know his apartment was ready, and Russell would not budge. In my exasperation I said, "Russell, I'm worried about you."
And he said, "We worry about you too, Kel."
I walked away but his words rang in my head. And they took me back 15 years because people had said that to me. I was in college drinking heavily, acting recklessly, and writing suicidal letters to a friend back home, who in her desperation to try to help, went to our high school soccer coach. A few months later I was back in Seattle and that coach put an AA pamphlet under my door with a note on it that said, "I care."
People had tried to get me to stop drinking before, but something about the way she did that left me room to make that decision on my own terms. And when I was ready, I went to her for help. I thought about Russell and I thought about me and I realized in my darkest times when I was most in need, what made the difference was another human being making a connection, spending time with me, as is, without telling me what they thought I should do.
The next time I found Russell on his bench it went like this:
"Hey Russell, I'm so glad to see you today. There are some things we could do together when you're ready.
But first I'm hoping you can tell me about going fishing under that blue blue bridge."