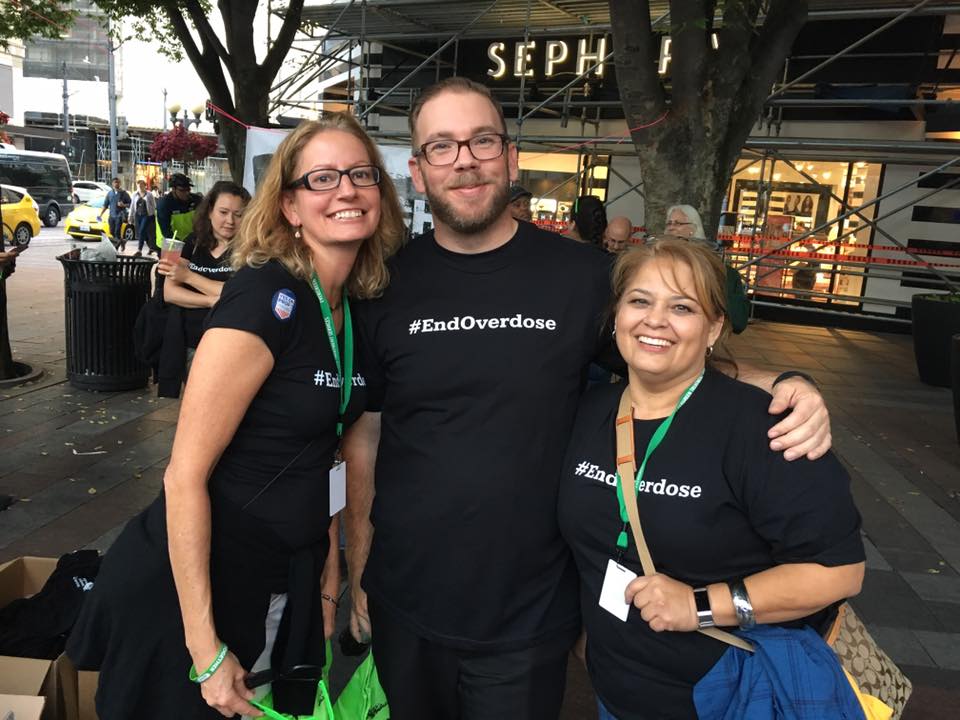 —Meet ETS Director of Clinical Services, Sean 
Soth
"This beautiful, amazing man was so active in 
our college
 community, fighting for marginalized peopl
e. 
I watched him get destroyed by addiction
. Then one day, he overdosed
 and was gone
. 
His death
shook me to the core.
" Sean Soth shares 
how the death of his 
close
 friend in 
college 
guided
the direction of 
his 
career
.  
Soth is the Director of Clinical Services for all of ETS's clinics. We sat down with him to hear more about his journey as a counselor, how he thinks about substance use disorder, and his vision for ETS.  
How long have you been at ETS and what are the responsibilities of your current role? 
I started at ETS four years ago as a counselor and have been steadily taking on responsibilities within ETS since then. My role has now evolved to oversee all clinical services—individual and group counseling, case management, educational classes—for our medication-assisted treatment (MAT) clinics, including both our Opioid Treatment Program and Flex Care.  
How did you get into this line of work? 
After graduating from college with a major in sociology and minor in ethnic studies, I returned to my hometown in eastern Washington. Around the same time, my partner's brother was having a difficult time with opioid addiction. His story is the quintessential example of how the opioid epidemic ravaged so many lives; he had a skateboarding accident after which his doctor prescribed oxycodone—way too much oxycodone. While he never started using heroin like many people in this epidemic, his opioid use ballooned into a use disorder and, eventually, he was treated at an in-patient MAT program. 
To support his recovery, I attended a family event at the facility. For the first time, I heard a psychiatrist describe how addiction affects the brain. I'd heard all the stories—and had seen in real life—how addiction destroys lives, but to hear first-hand how addiction works from a chemical perspective was eye-opening. After that, I found a Chemical Dependency Professional (CDP) certification—now called Substance Use Disorder Professional (SUDP)— and enrolled in the course.  
Now, I've been counseling people with substance use disorders for over a decade, and the moments that stand out are when the seeds you planted start to blossom. The change in people is so dramatic. You can see the physical changes—people with gaunt, pale faces gain weight, their eyes and skin brighten, and their faces become more animated and alive when they speak. I get to have conversations that are incredible about people's spiritual journeys and I get to support them as they learn to love themselves. Yes, sometimes people get worse and sometimes we lose patients. But the positive stories keep us going.  
What are some of the challenges ETS patients face? 
People with substance use disorders are very marginalized by society. Even within the medical profession, among people who should know better, it is incredibly difficult for our patients to receive the care and respect they deserve as human beings.  
Many people call this stigma, but I'd like to change this language. Instead of "stigma," I use "discrimination." Stigma is often interpreted as something that the patient owns or wears—like "stigmata." But the onus of stigma should not be on the patients. Many patients have a long history of being denied healthcare that others with medical issues are not denied. That's not stigma, that's straight-up discrimination.  
We know that addiction is more prevalent in communities of color and the LGBTQ+ community, and a lot of social determinants play into this. Poverty plays a strong role in how much trauma people experience in their lives. In my own experience, and there is research to back this up, trauma is the number one indicator of addiction. Any time you can identify people who have experienced increased trauma, substance use disorder closely follows. This applies to how LGBTQ+ people have historically been treated in society, often by their own families, and applies to veterans who lived through combat and may suffer from post-traumatic stress disorder.  
What has been surprising to you in your work with ETS? 
I'm still surprised how little people know about what ETS does and how much educating I have to do, especially with other medical professionals. I end up having a lot of conversations or giving a lot of talks about what MAT is and why it works.  
It's getting better, unfortunately, because of how pervasive the opioid epidemic has become. More people are depending on MAT for treatment because it works better than anything else out there when it comes to opioid addiction. Yet the treatment still has a negative reputation, particularly with methadone. As a result, methadone is one of the most heavily regulated medications in this field. It's actually one of the most regulated medications, period.  
Even opioid pain medications that often lead people to develop an addiction in the first place are less regulated than medications used to treat this condition. Any provider who can write a prescription can write one for as many oxycodone as they want. No providers can prescribe methadone. It has to be accessed through an outpatient program like the one at ETS.  
What's the best part of working at ETS?  
The people—those I work for and with. For the patients, I want nothing more than to continue offering them the services that they need. They've been so marginalized, and I feel that we need to do whatever we can to recognize how they've been treated and change the system for the better. 
The people I work with are amazingly caring. No one goes into this line of work to get rich. They are mission-oriented; like me, they want to be here for these patients. They know the hardships people with addiction have been through and they want to help. 
This compassion is necessary. We have a lot of counseling tools and evidence-based methods, like motivational interviewing or cognitive behavioral therapy, but none of these approaches matter if we're not authentic and caring with our patients. The approach doesn't matter as much as making someone feel like they belong and that they're part of something. Because the staff is so caring, they are developing an environment where patients feel like who they are is good enough.  
If you could upload a bit of information to someone's brain, what would you want people to know and integrate into their lives? 
I have not met a single patient who has told me: "Man, what I really want is to reach a point where I am completely dependent on a substance and have it control my whole life." No one chooses to live this way. If people could understand the science behind addiction, that'd be a good way to jumpstart compassion.  
To put it simply, craving for substances is like starvation. If people can have empathy for someone who is starving to death and understand their drive to do anything to get something to eat, they can understand addiction. It is the same chemical process that drives someone to "get well" or use drugs. This would help people understand why people with addiction make some really poor decisions. Their brain is telling them they are going to die if they don't use. 
What is the future of ETS?  
Belonging is the antidote to many challenges around addiction. I would love to see ETS become "rat park." I'm sure that sounds weird but stick with me. I'm referencing a series of studies conducted by Bruce K. Alexander out of Simon Fraser University. Previous studies showed that rats kept alone in cages would consume particularly addictive drugs like opioids nonstop to the point that they would eventually overdose and die. However, if you took those same rats and put them in "rat park" a place where they have other rats to be around, food, space to run, tubes to hide in, and all the other things rats love, the rat stops killing themselves with a substance. The rat belongs to the community and ignores substances.  
People aren't rats, of course, but we still need connection and a sense of belonging to stay well. We want to be that welcoming place for our patients. A place where they find not only treatment for addiction but also a community to belong to.  I think we're well on our way.  
Why should people donate to ETS? 
It comes down to making an investment in people and believing what our patients are capable of when they're supported. An investment in ETS is really an investment in the community. We can make a difference in people's lives just by being here and everyone who donates has the opportunity to contribute to that. We know recovery allows people to do amazing things. We see it every day.