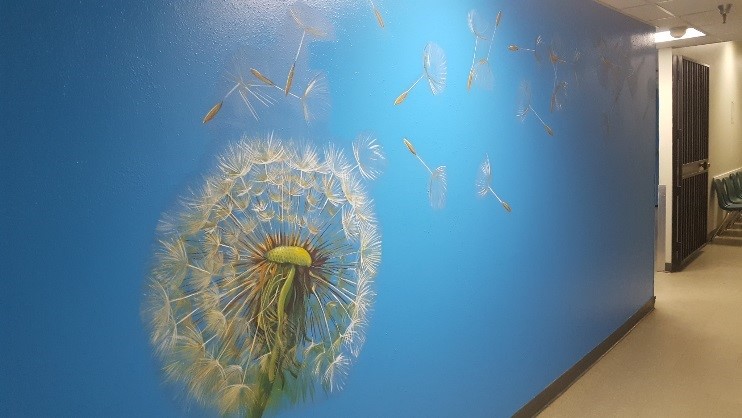 Entering into recovery from opioid use disorders is about more than clinical treatment. The people and places we surround ourselves with have a tremendous impact on our sense of well-being. Some places can fill us with hope and energy, simply by entering the building. Evergreen Treatment Services (ETS) is one of these spaces, thanks to the Space Needle Foundation and former KIRO-TV News Anchor Penny LeGate.
ETS's clinic on Airport Way in Seattle sees 1,300 patients each day for medication assisted treatment. These are all people struggling with opioid use disorders. Patients come from miles around to receive holistic support from counselors, nurses, and medical providers who partner with them as they work toward recovery from addiction, and recovery of their lives.
Penny, who is a friend of ETS, tragically lost her nineteen-year-old daughter, Marah, to a heroin overdose in 2012. While visiting the Seattle clinic, she took notice of the sterile environment and suggested we do something different, understanding the impact of atmosphere on a person's outlook, attitude, and ability to change. Penny enlisted the help of a talented artist and friend, partnered with a funder, and the result is a transformed setting of happiness and healing.
Ron Sevart, President and CEO of the Space Needle Foundation, tells us about the Foundation's decision to fund the project: "When Penny approached us about this, I had a couple of staff with family members who were struggling with opioid use disorders, but when I began talking to the rest of the team it became clear that this is something that touches more people's lives on a daily basis than we realized. If you scratch the surface and look a little deeper, it's impacting a lot of people. The decision to fund this project was unanimous. What was exciting to us was transforming a white-walled waiting area that felt institutional and clinical into a space that evokes energy, passion, and emotion. It's hard to look at the new walls and not smile. Hopefully patients will leave feeling a little bit better than before."
We also had a chance to sit down with the artist, Evan Jones, who shared his experience of painting the murals: "We wanted to change the look and feel of the clinic with vibrant, color images that represent rebirth and transformation. We wanted the paintings to remind patients that change is possible, and that anyone can start anew. The first image we decided on was a dandelion. For many of us dandelions represent the magic of childhood. We have memories of blowing on the seeds and watching them float away, with a chance to sprout new life wherever they land."
Evan shared the connections he made with patients while he was painting: "I spent around two months on the project, and with patients coming into the clinic daily for treatment, I got to see their reactions to the paintings first-hand. Across the board I was told that the paintings made people feel happy and that it made their experience of visiting the clinic better."
Evan also shared what the paintings mean to him personally: "Over the years I've come to learn what a terrible thing opioid addiction is. It is way more prevalent than people want to admit, and it is so clear that we need a different approach. We need to treat it like the mental health issue that it is and we need to make treatment more available. The very real possibility of an overdose is an ever-present worry in the hearts of family members. For me, the change really came after watching the PBS Frontline special Chasing Heroin, and after reading Chasing the Scream – I'd recommend those to anyone. There's so much we don't understand about addiction as a society."
Our clinic on Airport Way is a tremendous example of the community coming together to support people who are often stigmatized and cast aside. People suffering from opioid use disorders are our neighbors, family, and friends. They need our compassion, not our judgment.
On behalf of our patients, thank you to Penny LeGate, Ron Sevart and the Space Needle Foundation, and Evan Jones. They have set a marvelous example of how we can embrace others and bring a bit of beauty into their lives.
If you have ideas, talents, or resources you would like to share, to make a difference for the people we serve, please contact Director of Development, Tavia Kachel, at tkachel[at]evergreentreatment[dot]org.