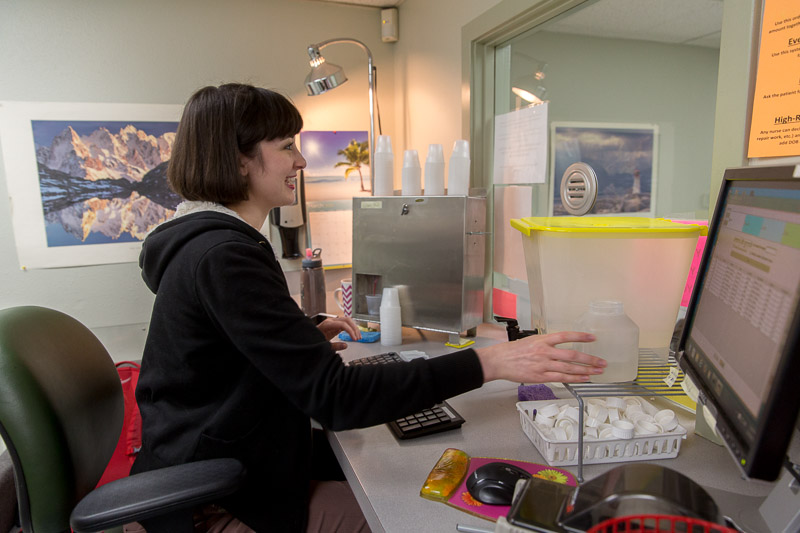 Evergreen Treatment Services, as part of its commitment to providing evidence-informed, relationship-centered care deeply rooted in harm reduction and social equity, is learning and evolving! We are working to further incorporate principles of trauma-informed care into how we work with clients and within our team. April Nayes, an intake supervisor at the Seattle Clinic and a leader in this initiative, discusses the principles of trauma-informed care, why it's important for our work, and the steps we've taken so far to more deeply integrate this approach.
---
Anyone can experience trauma—a person, a family, a community, or a generation. Once someone experiences trauma, it impacts how they navigate the world, often producing feelings of fear, vulnerability, and helplessness. People may turn to substance use to cope with trauma when access to a support system, quality healthcare, and safe housing are not available. Yet, for years the medical field has treated substance use as an individual behavioral health issue rather than an outcome of structural inequities and prolonged exposure to trauma. Evergreen Treatment Services seeks to provide effective, evidence-informed recovery services that honor our patients' experiences and agency.
Starting in 2020, Evergreen Treatment Services introduced Trauma-Informed Care (TIC) workshops across its clinics to support better outcomes for our staff and the patients we serve. To continue improving how we support our wonderful patients and diligent staff, the ETS Seattle Clinic Services has implemented trainings along with other initiatives to support the meaningful integration of TIC into the clinic. In the past year, the Seattle office has partnered with Laura Cooley and Annie Roepke, Ph.D. of the Northwest Addiction Technology Transfer Center (NWATTC) to increase our knowledge around TIC and support us as we align its principles with our approach to substance use treatment.
What is trauma-informed care?
Trauma-informed care teaches us to focus on the four R's of patient care:
Realize the impact of trauma on patients and staff
Recognize the signs and symptoms of trauma in patients and staff
Respond to trauma with trauma-informed policies, procedures, and practices
Resist the re-traumatization of patients and staff
Many times, our patients come to us having experienced a great deal of trauma within their homes, community, and systems that may have poorly served them. TIC encourages an approach to patient engagement that is rooted in safety, choice, collaboration, trust, and empowerment by acknowledging and honoring the histories of trauma patients have experienced. The principles of trauma-informed care help our staff create strong, healthy relationships with patients, so we can provide compassionate care that produces better health and life outcomes for them.
TIC also advocates for employee wellness and self-care. The nature of our work means staff are frequently exposed to the trauma of our patients, and repeated exposure can have harmful impacts on staff wellbeing. This is what TIC calls vicarious trauma. Staff cannot provide quality recovery services to our patients if we are working from an empty cup. To ensure staff are prepared to tend to the needs of our patients, staff must also receive quality care. Therefore, the workplace must support a strong culture of employee wellness and self-care. This starts with ensuring there are resources and policies in place that encourage rest and restoration.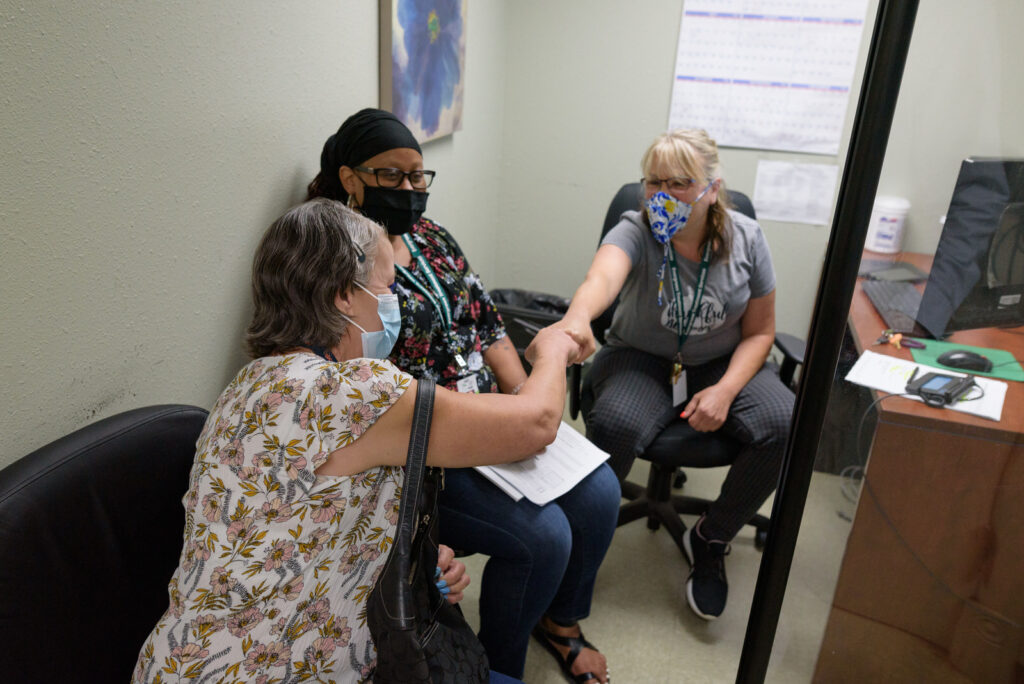 How has Seattle Clinic Services worked to integrate trauma-informed care for its patients and staff?  
We are excited by the initial steps we've taken to integrate trauma-informed care into our clinic. In partnership with NWATTC, we have
hosted two workshops on TIC for all Seattle Clinic staff.
held a Day of Recognition for our clinic staff to focus on workplace wellness. Clinic staff received individual gift bags, including healthy snacks and information on the importance of workforce wellness. The bags were gifted with thoughtful reminders of the importance of their work to ETS and to the greater community.
participated in monthly meetings with NWATTC consultants and TIC ambassadors to support the implementation of TIC in the clinic.
hosted monthly educational forums to boost staff knowledge on the intersections of diversity, equity, and mental health.
completed a TIC physical walk-through of the Seattle clinic to assess the office for healing-centered spaces. This assessment also assisted staff in learning how to create more healing spaces for patients and staff.
Moving forward, Seattle Clinic Services will continue to provide TIC consultation to department supervisors and build staff knowledge on TIC through its partnership with NWATTC. We are also hoping to offer TIC trainings to all new staff within the Seattle Clinic. This will help embed trauma-informed care into our recovery services and our work culture, so we are prepared to support other clinics and staff as they learn about and integrate TIC into their work at ETS. We look forward to incorporating trauma-informed care into clinic services, so we may continue to nurture our patients and staff and offer more opportunities for healing.