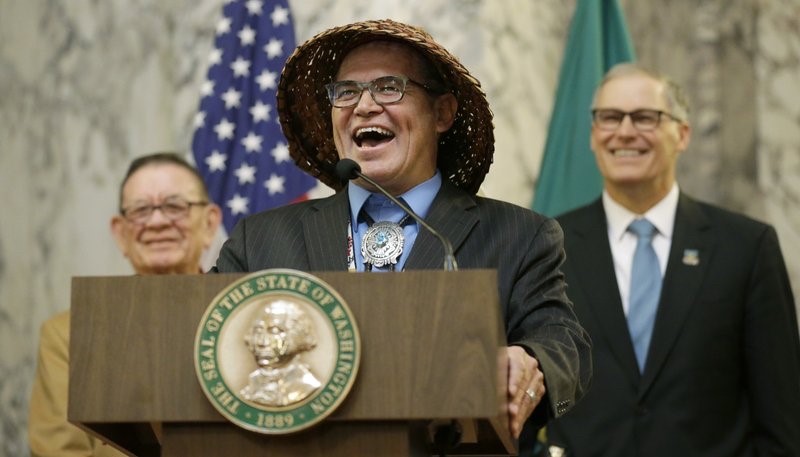 "My only memory of my great grandfather was him dying with a bottle of alcohol between his legs."
It's a dark memory for a man who has dedicated his life to the advancement of his community. Brian Cladoosby, the former chairman of the Swinomish Indian Tribal Community describes how historical trauma and inequities deeply impacted Indian country and his bloodline.
"In the 1920s, my grandfather was taken from his family and placed into an Oregon boarding school, where he was basically held prisoner. The sexual, physical, and mental abuse at these schools was off the charts – kids left with PTSD," Cladoosby shared. "Their trauma needed serious counseling and medication, but this was not available to them. They turned to alcohol."
Surrounded by friends and family who used substances to cope, Cladoosby was immersed in a world where the drunkenness and drug use numbed pain. This norm colored his early life.
At age eight, he was introduced to alcohol. Years later, his basketball coach got his whole team stoned when he was only 12. By the time he was 14 years old, he had experimented with multiple drugs, including LSD and cocaine. He still remembers the friends who died at a young age by drug and alcohol-related suicide.
"I'm very familiar with addiction because I've lived it. I've seen the harm that it causes."
His recovery journey led him and his wife to the church. Their efforts proved successful – less than 10 years after starting his recovery journey, Cladoosby was named chairman of the Swinomish tribe in 1997.
It's a position he held for more than 20 years.
Cladoosby's leadership led to the opening of the Didgwalic Wellness Center.  The Center provides substance use and mental health services to all enrolled tribal members. Similar to Evergreen Treatment Services, integrated care is a critical component of the facility's offerings. The Center offers a host of mental and physical health services, including medication to support recovery, mental health counseling, and outpatient treatment. In an effort to eliminate barriers, the center also offers shuttle transportation and onsite childcare.
"Community is important to us. We try to make everyone feel like they're family."
In addition to opening the Didgwalic Wellness Center, Cladoosby has also advocated for educational programs to help Swinomish youth stay away from substance use. Thinking back on the boarding school experience that led his grandfather to alcohol, Cladoosby notes the irony.
"Education caused the problem and is also a tool to use to stop it," he said. "The Tribe has put millions of dollars into education. Our kids get a free ride to the school of their choice when they finish high school or earn a GED. We can only pray and hope that our kids don't use. We can break the cycle and put resources in front of them."
Cladoosby is this year's Roots of Recovery keynote speaker. He hopes people learn about the impact that historical traumas have had on the Native American community. Then, they'll understand why poverty, health disparities, and drug and alcohol use are so rampant across the nation for this community.
For those who are on the path to recovery or wish to do so, Cladoosby also hopes that his life and recovery journey will be a testament to others.
"It is only by the grace of God, and the urging of my wife, that I've been able to do some awesome things," Cladoosby shared. "If I can make it out of the life that I was introduced to at a very young age, there's hope for everyone."
Buy your ticket today to hear Brian Cladoosby speak at our 4th Annual Event: Roots of Recovery on September 30th.