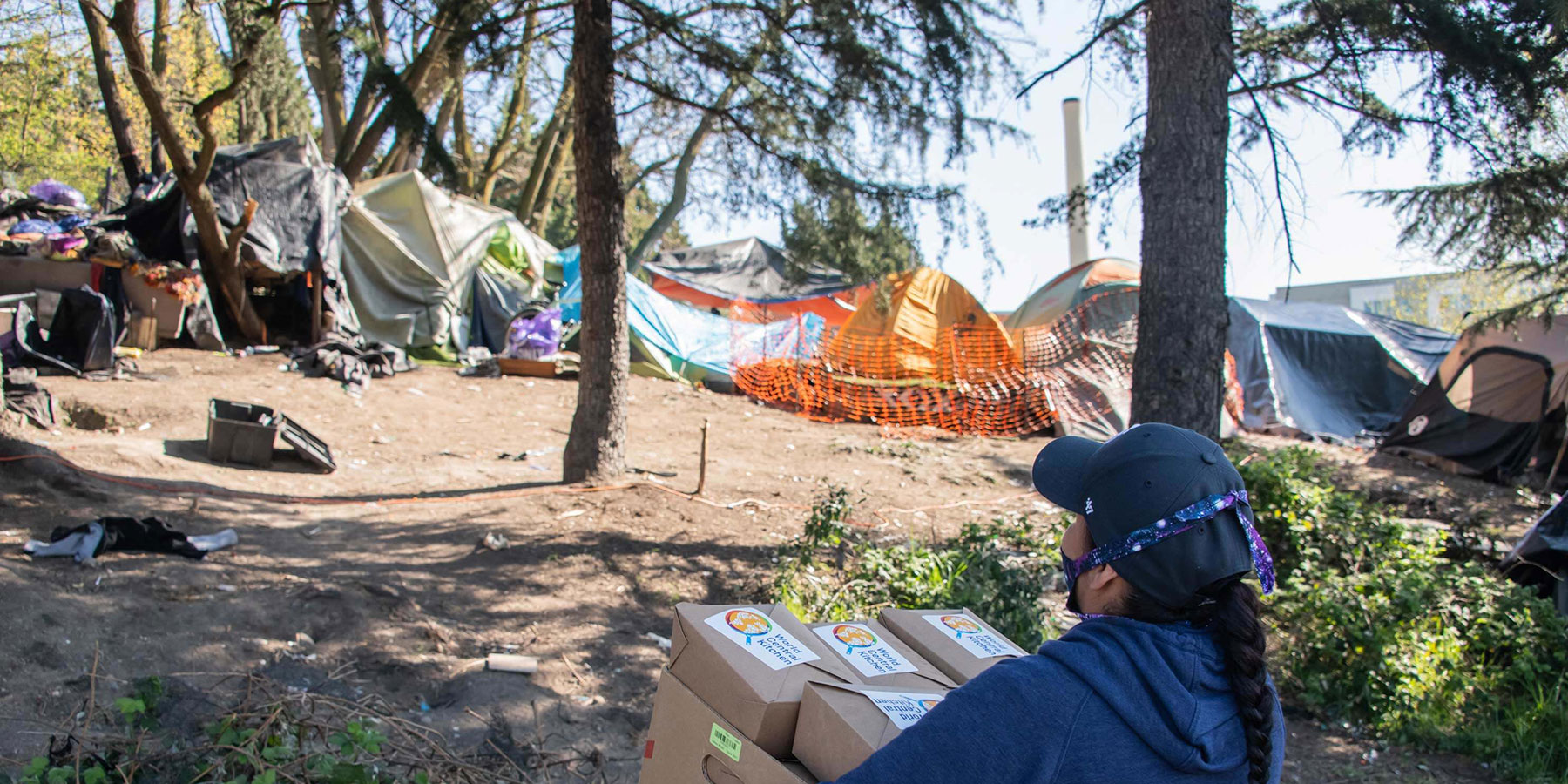 This month is the 25th anniversary of REACH. To mark the occasion, we're interviewing our four new REACH directors to highlight the organization's mission areas.
Karen Salinas is the Director of Outreach. She started with REACH in August of 2018 as a screening and outreach coordinator in the North precinct for the LEAD program. Last year, Karen took over as LEAD outreach coordinator supervisor to oversee the North and East precincts outreach efforts. She's been in her new director role for about a month.
We sat down with Karen to learn more about her interests, background, and vision for the future of community outreach at REACH.

---
So Karen, how are you feeling a month into your new role?
It's been good! It's been interesting. Since I didn't know anybody in this state when I moved here from San Diego a few years ago, these people are my friends. These are the folks that I got to know and hung out with when I got started, so I already have good relationships with the staff.
The outreach staff knows the most about what systems are efficient and effective, so I've been trying to get as much collaborative input as possible. It is interesting to hear their diverse, and very honest, feelings and perspectives.
Do you have a personal connection to REACH's work and mission?
Well, I feel like all REACH staff do in one way or another. Homelessness, mental health, and substance use affect so many of us, and for me, it's all three.
I'm Salvadoran, and my family left El Salvador during the civil war. My family settled in the DC area, where I grew up. Many of my family left their home as teenagers; this was a deeply traumatized community, and it showed.
I found harm reduction in 2014 when I was studying at American University and continued to pursue this line of work when I moved to San Diego for my master's degree. Since learning about the power of harm reduction, I've approached everything from a harm reduction lens.
Who has impacted your career?
Lots and lots of people have impacted my career. Growing up, my family was a huge influence on my life. They opened my eyes to the world and gave me a realistic dose of what the world is like.
I've also been very lucky to have many people of color and queer educators throughout my life. My family had a Section 8 voucher when I was little, so we ended up living in a very nice neighborhood where we experienced things that I normally wouldn't have. For example, I met Bill Clinton! We also had more educational opportunities, like exposure to music, art, and physical education.
When I was younger, my mom worked at Howard University, and I would hang out in the cafeteria of the law school. I'd talk with law professors and surround myself with brilliant Black people. We'd talk about the importance of education and how convoluted these systems are. This DC perspective was important in realizing how interconnected these systems are and how they keep us from moving forward.
What is your vision as director of outreach?
As an immediate goal, I want to focus on filling out the team. Brenda Frazier has been the supervisor for a long time and has done a great job, but we've grown so much that she doesn't have the capacity to be everywhere. This job can be grueling work and having to tell someone they're not eligible for a program like LEAD, for example, can be soul-crushing. We need our program leaders to have adequate support.
Long-term, the demand for social work has increased significantly and this increases the pressure on our team. We don't want the police to be called on one of our clients and have them arrested just for substance use or being homeless. So that question of, "what does an alternative to 911 really look like?" is a very real conversation we need to have while understanding that we are not staffed or equipped to be emergency response.
I want my team to focus on the most vulnerable and reach those people who are tucked away and hard to engage. These are the chronically homeless, the LGBTQ+, the people of color who need the most help. So ideally, we'd be able to build a robust network of other organizations who will be there to fill in the gaps.
We are approaching the 25th Anniversary of REACH. Looking forward another 25 years, where do you hope REACH will be? What world will REACH have helped build?
Twenty-five years from now will be 2046 – that sounds weird to say! But, it's hard to say how it will be 25 years down the line because REACH feels very different even from the organization I joined three years ago — the context of the conversations we're having keeps changing and we've adapted.
I know that in 25 years things will start to look different. That is enough time for us to create real change. One thing I do think will change is the depth of conversations and the trust that takes place. We are so busy trying to respond to what is going on that we haven't had space to provide structure, but now we have all these different positions opening up.
Since harm reduction is so different from the status quo, organizations rarely get funded well enough to stick around for 25 years; REACH is unique and I hope we will be around in another 25!
What do you wish the average person knew about homelessness and REACH?
I wish people understood the trauma that unhoused people continue to experience. I want them to know that these people live on the street, but it's not always their choice. They experience racism and discrimination just for being who they are and often cope with substance use.
For REACH and other outreach programs, resources are pretty tapped out. People complain about seeing unhoused people on the street, but then do not support what we are doing to bring people the help they need. I wish the average person would take the time to self-reflect, have compassion, and project empathy towards this population.
I always tell my staff that change won't happen in a year. This is often grueling work, with our staff facing a lot of traumas of their own. We must understand that, as service providers, we have to be okay for the people on the street to be okay. All any of us can do is our best.
---
Want to learn more from REACH directors? Check out our interview with Director of Integrated Care Michelle Conley and stay tuned for interviews with our directors of housing and community justice.