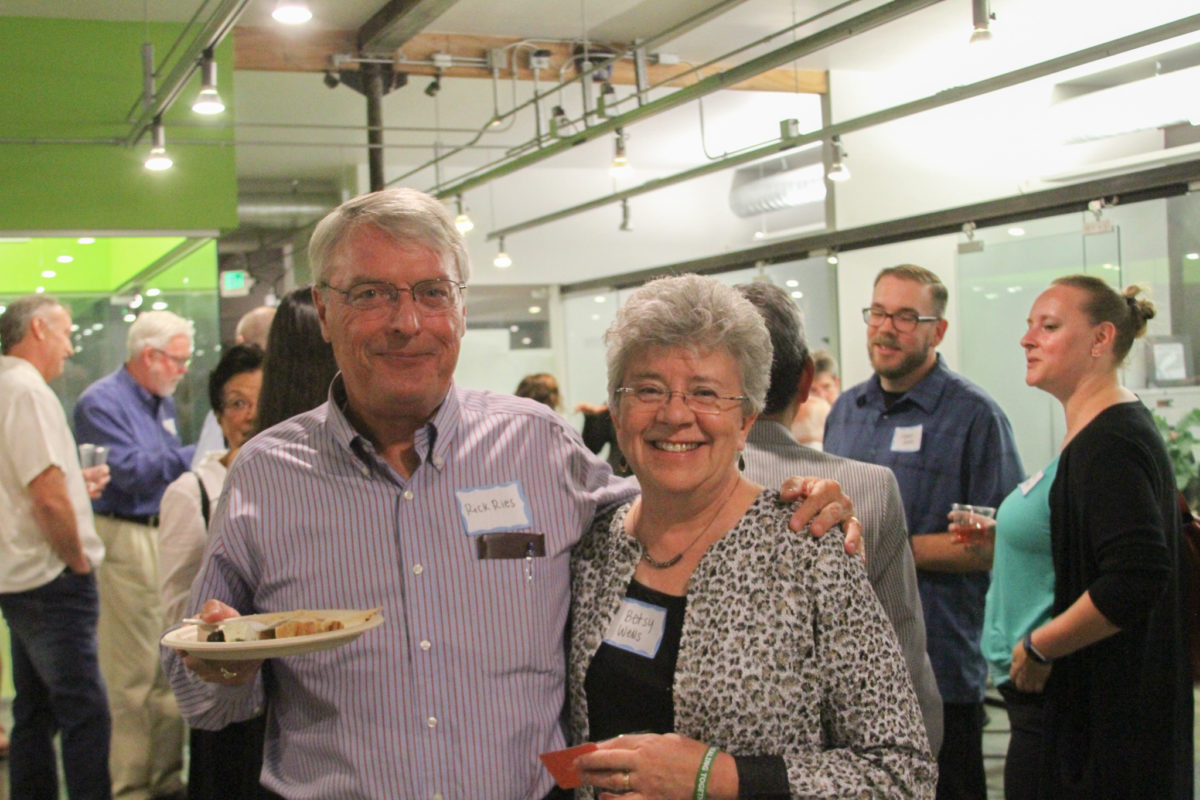 When former ETS Board Chair Betsy Wells—a trained psychologist and research scientist—was hired to run a federally funded study at ETS in 1989, she had no idea what she was getting into. More than 30 years later, her contributions to ETS—as a research collaborator, board member, and board chair—have been tremendous.
Prior to getting hired to that initial study, Betsy had conducted research for the School of Social Work at the University of Washington (UW). She eventually returned to UW but continued to have an office at ETS until 2001. After that, she worked with the then Executive Director Ron Jackson to get ETS into the Clinical Trials Network funded by the National Institute on Drug Abuse.
Betsy also helped transform the role of ETS' board of directors. Prior to the hiring of Executive Director Molly Carney in 2011, the board performed governance activities but were less active as ambassadors of ETS' work and advisors of day-to-day operations. "Molly wanted more board involvement. She wanted the board to serve an advisory role on more issues and initiated a committee structure. She also wanted to grow the board to a larger group so we could more actively support ETS through fundraising. I supported Molly's vision and wanted to be part of it," Betsy said.
According to Molly, who was the executive director of ETS during Betsy's time as board chair, "Betsy has made a significant impact on ETS over her many years of involvement. She was instrumental in updating our board membership and operations and critical in the oversight of ETS' significant expansion during the opioid epidemic. ETS has been graced with her presence and persistence and we will be forever thankful for her contribution."
When asked what she's most proud of, Betsy says hands down it was the incredible amount of growth ETS experienced, both before, and during, her tenure as board chair. Between 2014 and 2019, ETS expanded from serving 2,100 to 5,400 people. The organization responded to the increased need for services during the main surge of the opioid epidemic, and she is proud that they were able to meet growing demands for substance use disorder, case management, and outreach services.
Looking forward, Betsy is excited about the leadership of Steve Woolworth, ETS' new CEO. "He took the reins of the organization right before the onset of a major global pandemic, and I've been so impressed with how he has handled getting us through thus far." In addition to how Steve has managed the pandemic response, Betsy is excited by his desire to better integrate the homeless outreach and substance use treatment programs. "We have yet to realize the potential for providing more continuity in services for people who are homeless, use substances, or both."
In addition to being appreciative of the new CEO, Betsy is thrilled to pass the baton to the incoming Board Chair Vincent Briere: "Vincent brings a lot to this role. It's going to be a great next couple of years."
Vincent steps into the board chair position knowing that he's "got big shoes to fill." He continues, "the growth this organization has undergone in the last few years has been incredible. I've served on the board since 2017, so I'm privy to Betsy's strong leadership as chair."
Unlike Betsy, Vincent does not have a clinical background. He has a technology background but has been working in global public health for 10 years. Vincent is a French national who started his career with a vaccine organization in Geneva, Switzerland, then went into sight- and hearing-related work when he moved to the U.S.  in 2012. ETS pulls together his professional interest in public health, personal interest in trauma-informed care, and strong desire to have local impact.
While the growth the organization has experienced is remarkable, Vincent wants to use his expertise to ensure the organization has the systems in place to manage it. "ETS systems need to be adjusted so the organization can better leverage economies of scale. I hope that I can bring this expertise as an advisor to the CEO."
Looking forward, Vincent is motivated by several factors. "First, I'm a huge advocate for ETS' brand of holistic recovery. We're not only helping people get out of homelessness or recover from substance use disorder, we're helping them take the next step to rewrite their stories and get control of their lives." Because of his wholehearted endorsement of the wraparound nature of services, Vincent advocates for ETS within his personal networks and wants to do more to expand the board, partnerships, and ETS' philanthropic network.
Vincent has been deeply moved by the common humanity of ETS patients and clients. "When I first met some of the people being served by ETS, I was struck by how they were just people, like me. I expected something different. I now more fully understand the importance of combatting stigma and discrimination that makes people view our patients and clients as 'other.'" For the substance use treatment side of ETS' work, Vincent would love to see ETS develop deeper relationships with other health providers to expand their work, fight stigma, and better support their patients.
During the coronavirus pandemic, Vincent was moved by the passion of the REACH team. "They showed up for people who had so little support at such a crucial time: no bathrooms, support services, or even food. I'm incredibly proud to be part of this organization, and I look forward to great things in the future."