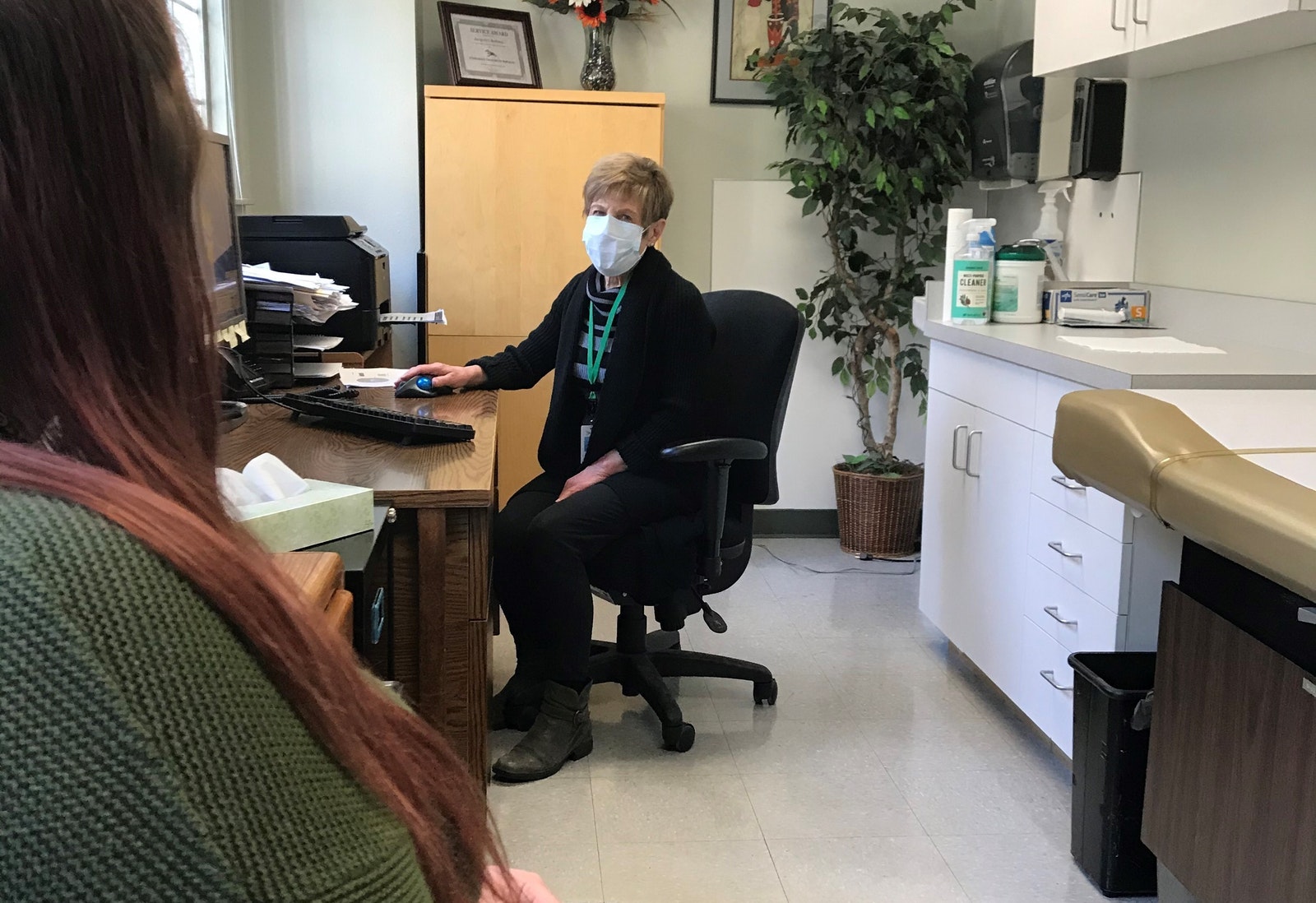 We want to give you an inside look at our response to the COVID-19 crisis from the points of view of our incredible staff. They've been working together to keep people safe and supporting our patients and clients as they continue the difficult, daily work of recovery.
We've asked some of our team members at REACH and our opioid treatment program to reflect on their experiences during the crisis so far, what they are challenged by, how they're taking care of themselves, and anything good that might come out of this. 
Jackie Brolsma is a psychiatric nurse practitioner and one of our medical providers. She sees patients regularly and makes medical recommendations about their treatment, including what medication will best suit their recovery and when to adjust their doses. During this crisis, Jackie and all our medical providers have been working double-time as we change protocols for our existing patients and make treatment recommendations for an influx of new patients.
You can read more about how ETS is responding to the crisis on our dedicated COVID-19 Emergency Fund page.
---
Early on in this crisis, it dawned on me that I might be the main treatment provider at the clinic that new patients are seeing, in addition to the dispensing nurses. During regular treatment, patients see me frequently early on in treatment but once they become stable on their medication, we check in annually. With face-to-face individual and group counseling suspended, these important in-person contacts are only happening through video conversations.
As a result, I'm one of the few in-person contacts patients see at the clinic and often in their lives. This realization has given me a heavy feeling of responsibility. Our patients are a highly stigmatized group of people that for the most part have always felt untouchable. I used to go out of my way to let patients know, through a hand on their shoulder, eye contact, or taking a pulse, that I do not feel that way about them—they are not bad or dirty. Now that we need to keep distance, I try so hard to model caring without being close, but it's difficult without the tool of reassuring physical touch.
We've made a lot of changes in the way we treat. When the changes in the protocol were first decided, the medical staff assessed each patient's ability to increase their take-home doses. For some, the daily structure of coming to the clinic is a key piece of their recovery. They rely on the routine and benefit from the structure as much as they do the medication. It's really on a case-by-case basis; patients for whom a break in routine would be problematic, like for those with dementia, can continue to come to the clinic as usual. For others, daily visits impede recovery because they get in the way of work, caring for their families, and having functional lives. In conversation with patients' counselors, we have tried to make the best decision for each person.
In the beginning, this was difficult. I'm proud of my colleagues and of what we are doing here to keep patients safe and in recovery, but there were just so many things we needed to adjust to and account for. We were trying to understand the virus and, at the same time, make decisions based on imperfect knowledge. I never dreamed I'd have to know this much about infectious diseases—and I was treating patients with opioid use disorders during the height of the AIDS epidemic!
Now that we've gotten into the swing of things, what I'm missing is the more relaxed appointments with patients. That's the fun part. We get to sit down, celebrate progress, talk about all of the changes they're noticing with improved health, and discuss ways they can start making even greater improvements. Because I see patients intermittently, the positive changes in their appearance, attitude, and energy levels are astounding—even if it has only been a month since our last appointment.
We're all living with the fear of this current situation. I am very healthy, but I am still in a higher-risk age group. We need to be brave for the patients and communicate calmness and support, but that doesn't mean I don't have my fears about coming to work. I know it's also difficult to stay at home, but some days I'm envious of those who can work in their pajamas.
Outside of work, I've got my way of coping. I've always been a runner, and I've started running even more right now to keep myself healthy. I know if I am infected it may not make a difference, but it feels good to strengthen my respiratory system like I'm giving myself an edge on this disease.
To lift my spirits when work gets tough, I've started saving voicemails from patients. Many have called and left messages of gratitude for our efforts to keep them safe and for being able to take medications home so they can stay with the people they're caring for. It means so much to them to be trusted to care for their health and wellbeing without the daily oversight. For many, this feels new and empowering.
I'm interested to see how this crisis changes treatment moving forward. For a long time in our field, we've known that daily routine is a boon to treatment, but mostly just in the beginning. For many patients, the daily restrictions can become a barrier to getting on with their lives once they've gained stability. What we haven't studied in detail is when this switch occurs: When does the structure of daily opioid treatment go from a boon to a barrier? I think this crisis will allow us to gather more data on this.
I also hope that patients can start to feel more normal about their medications and their medical condition. We treat addiction differently than so many other conditions—we act as if it's a moral choice rather than a disease. It's not, but this attitude has been pervasive and it's difficult for the patients to not internalize and see themselves as bad people who don't deserve to be treated well.
Finally, addiction can be a disease of social isolation. Many people use drugs and alcohol when they feel alone, so I am sure this crisis is taking its toll on our community and on the mental health of people who are in recovery everywhere.
On the positive side, this could also lead to good things for some people. Many find it difficult to stay in recovery when their friends and family are using. Social isolation means that they may also be separated from the environment of addiction. People who are separated from that environment for enough time could start to see a way to get out of the cycle. This could be a very good thing.
My patients have taught me so much about resilience over the years I have been in this field. I hope that they draw on this strength during this difficult time.
If you're interested in supporting the life-saving work of ETS during this crisis, please donate now. To learn more about our response, visit our dedicated COVID-19 Emergency Fund page.