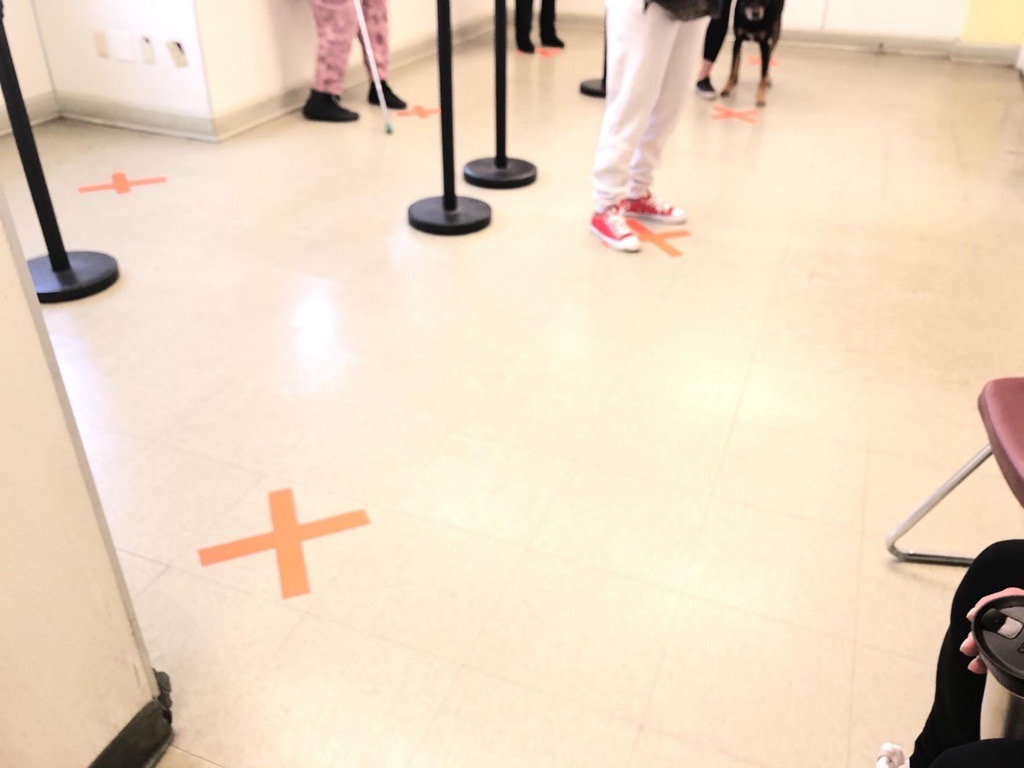 We want to give you an inside look at our response to the COVID-19 crisis from the points of view of our incredible staff. They've been working together to keep people safe and supporting our patients and clients as they continue the difficult, daily work of recovery.
We've asked some of our team members at REACH and our opioid treatment program to reflect on their experiences during the crisis so far, what they are challenged by, how they're taking care of themselves and anything good that might come out of this.  
Sean Soth is our director of clinical services. For more insight into his job when he's not dealing with a global pandemic, read our Q&A with him from last year. During the crisis, Sean's role has been to advise on changes to our treatment protocols and to support staff in any way he can.
You can read more about how ETS is responding to the crisis on our dedicated COVID-19 Emergency Fund page.
---
Like a lot of people in Seattle, my life has been chaotic during this crisis. My kids are home from school, and I am grateful for my partner who is also working full time, supporting the homeschooling efforts, and reminding me every day how lucky I am to have her.
Two things have stood out about ETS' response to COVID-19: how quickly we've been able to make changes to continue providing the quality care our patients expect and deserve, and how much this crisis has united staff in finding innovative ways to make this all work. I have always known that the people who choose to do this work are incredible human beings, but it has been awe-inspiring to watch.
The changes we've made to our facilities might seem simple, but they are critical to keeping patients and staff safe. We've updated the HVAC system to facilitate better airflow for nurses in our dispensary, created floor markings to help patients maintain a six-foot distance from each other, and put up other protective barriers for frontline staff. We've also instituted a rigorous cleaning and sanitization schedule with our janitorial services as well as with frontline staff while they are in the building. The clinics have never looked so sparkling clean!
We've made changes to our clinic schedules and protocols to ensure that patients exhibiting COVID-19 symptoms are kept apart from patients who are healthy. We're also making sure that fewer patients are in the clinics at any one time. The guidelines we created for our clinics have now been adopted statewide and have informed national policy for opioid treatment during this pandemic.
Our Treatment in Motion mobile clinic—or TIM—is made up of two vehicles, a mobile dispensary and a medical clinic. We have one vehicle at our Seattle Clinic and another at our South King County Clinic to provide medication to patients exhibiting COVID-19 symptoms. This allows them to get the treatment they need without entering the building. Meanwhile, at our South Sound Clinic, we have reconfigured the space around our side door to allow patients with symptoms to drive up and receive their medications.
Finally, all our clinics have been outfitted with spaces for telehealth. These are private spaces where patients can interact with counselors and medical providers via a computer. This ensures that fewer counselors and providers need to be on-site at our locations.
Through it all, our patients have been nothing but supportive. They understand the seriousness of the situation and are thankful that we are making changes to keep them safe.
But it's not all sunshine and roses. Like many medical facilities, we have a small stock of personal protective equipment and have not been able to get all the supplies we are likely to need as this crisis continues. We have what we need now but it's troubling to watch those supplies diminish.
And while everyone has been dedicated to keeping our facilities open and providing life-saving care, this has been tough on staff. The situation is scary and everyone here—and in Washington for that matter—is feeling the increased anxiety of balancing personal health risks, family, and work.
We've encouraged staff to develop self-care routines that keep them mentally and physically healthy. Since my gym has closed, I've been working out at home with my five- and seven-year-old. This has been great but it's a little annoying to be sweating and breathing heavily only to look over at my kids who are ready to go again with barely an elevated heartbeat.
Regardless of the challenges, I am hopeful that good things will come from this. For too long, our patients have lived with highly restrictive policies around the type of treatment we provide. Regulators, other medical providers, and many people in our community make discriminatory assumptions about our patients and the nature of addiction—for example, they assume people with a substance use disorder are irresponsible and make bad choices instead of recognizing that they are struggling with a serious medical condition. As a result, our treatment method is more tightly controlled on a federal level than the big pharma companies ever were when they sold medications that brought opioid addiction to epidemic levels.
The potentially positive outcome of this situation is that it could highlight how less restrictive policies—like allowing patients to take some of their medications home so they do not have to come to one of our clinics every day—improve treatment and make it more accessible. Imagine if you had diabetes and instead of getting insulin at home, you had to go to a clinic every morning and stand in line to receive the medication you need? That is what our patients have to do.
We're working with our medical providers and researchers at the University of Washington's Alcohol and Drug Abuse Institute to set up a study on how these changes are impacting patients. That way, we can get conclusive data and continue to improve our treatment in the future.
On a personal note, apart from the changes I see at work and the inspiring dedication of our staff, I have enjoyed seeing mother earth take a deep breath. With a short break in regular human patterns—particularly carbon emissions and decreased industry—the planet can take care of itself. People have reported seeing the bottoms of rivers they haven't seen in a while and wildlife returning to areas they've long avoided.
My hope is that we take note and recognize the importance of balancing our activities with natural processes for the health of the entire planet. I also hope that we recognize that we're part of nature too and can benefit from slowing down. We're going through difficult times right now and need to take mental and physical breaks to stay well. I hope we start making this a bigger part of our lives, and that we keep up this behavior in the future when we're no longer in crisis mode.
If you're interested in supporting the life-saving work of ETS during this crisis, please donate now. To learn more about our response, visit our dedicated COVID-19 Emergency Fund page.
DONATE TO THE COVID-19 EMERGENCY FUND