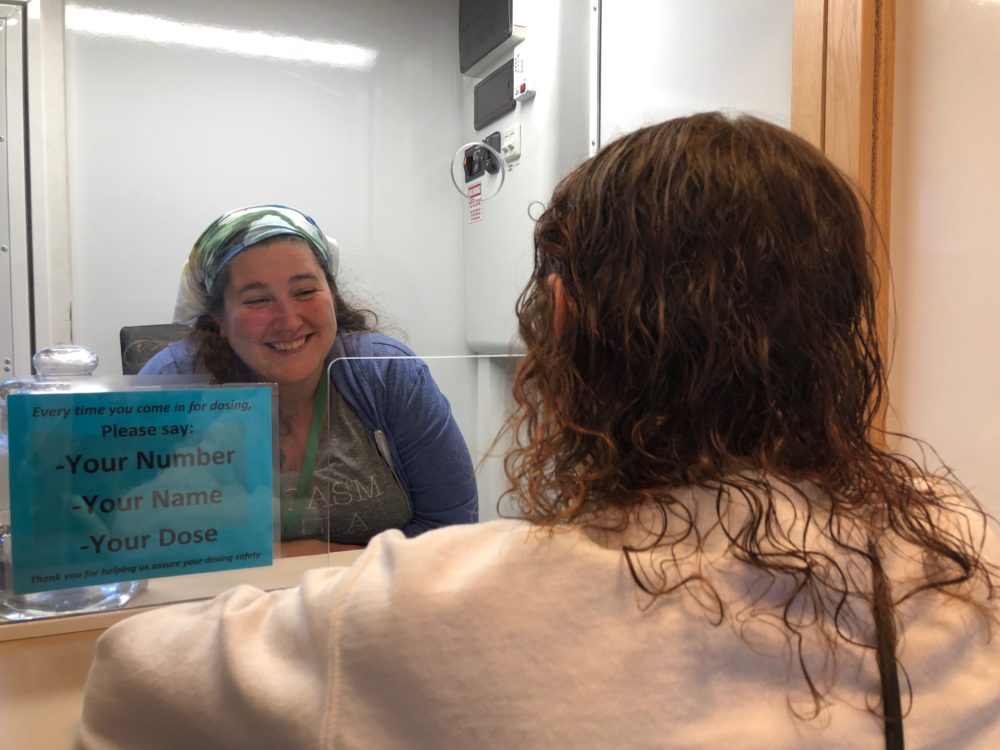 We first reported on Treatment in Motion (TIM) back in April. We're proud to report that TIM made great progress taking treatment on the road over the summer.
TIM is mobile medication-assisted treatment clinic that makes it possible for ETS patients in Seattle neighborhoods to get doses of methadone without traveling to one of our clinics and taking substantial time away from daily activities like work or school.
As ETS Director of Clinic and Implementation Management Catherine Perez explained: "We're trying to minimize all barriers to treatment. This is about expanding access to care. We need to get creative." ETS is currently the only organization in Seattle licensed to have a mobile dispensing unit like TIM.
TIM has been operational since late June, serving patients Monday through Saturday in Seattle's Belltown neighborhood and University District. We recently went to see TIM in action in Belltown.
The TIM team has a smooth process for patient interaction. After presenting themselves to the mobile clinic public safety person, patients talk to Glory Wright, an LPN who has worked at ETS for two years. Glory checks patients' identification and verifies that they're in ETS' opioid treatment program. She then assesses if the patient is safe to dose, observing them to make sure they're not impaired and haven't been drinking. She then pours their dose of methadone, makes sure they swallow it and wishes them a good day.
The day we visited, Thai Kongchunji was also staffing TIM. Thai is a urine analysis technician who plays two roles. First, he runs urine analysis or oral swab tests. Each patient must submit to an oral swab during intake and then randomly each month. Second, he fulfills a DEA that requirement that there must be two staff members attending the mobile clinic at all times because methadone is a Schedule II narcotic that is heavily regulated.
We talked to a female patient who dosed through TIM. The patient, who requested that we not use her name, had been to TIM a couple of times to receive her weekly allotments of methadone. Weekly dosing is allowed for certain patients who are stable, housed, and relatively advanced in their recovery. The patient lives less than 10 blocks from where the mobile clinic was parked. Before TIM, she traveled 30+ minutes each way on the bus to dose at ETS' Seattle clinic and now it is much easier for her to receive life-changing treatment.
After the patient left, Glory explained that she had come a long way; she's now in housing and is going to school. She is slowly lowering her dose of methadone and hopes to be totally medication-free by December. Glory explained, "People ask if I believe in this treatment. I've seen it work."
TIM is just getting started and will ramp up in the coming months, adding a second vehicle that will accompany the mobile dosing clinic to do patient intake, medical and psychosocial evaluations, and light case management. This will significantly expand TIM's services and allow them to treat people who come in from the surrounding neighborhoods and need treatment. Currently, patients must go through intake at an ETS clinic. The TIM team also plans to expand their hours in Belltown and add staff; they may begin to offer the medication buprenorphine as well as methadone.
For now, TIM is getting into a rhythm of treating patients and working out a few remaining mechanical kinks. Catherine Perez noted that both King County and Seattle City officials have been very supportive and welcoming of TIM. "ETS is excited to meet our patients where they are and be a solution to one of our community's most pressing problems," said Perez.