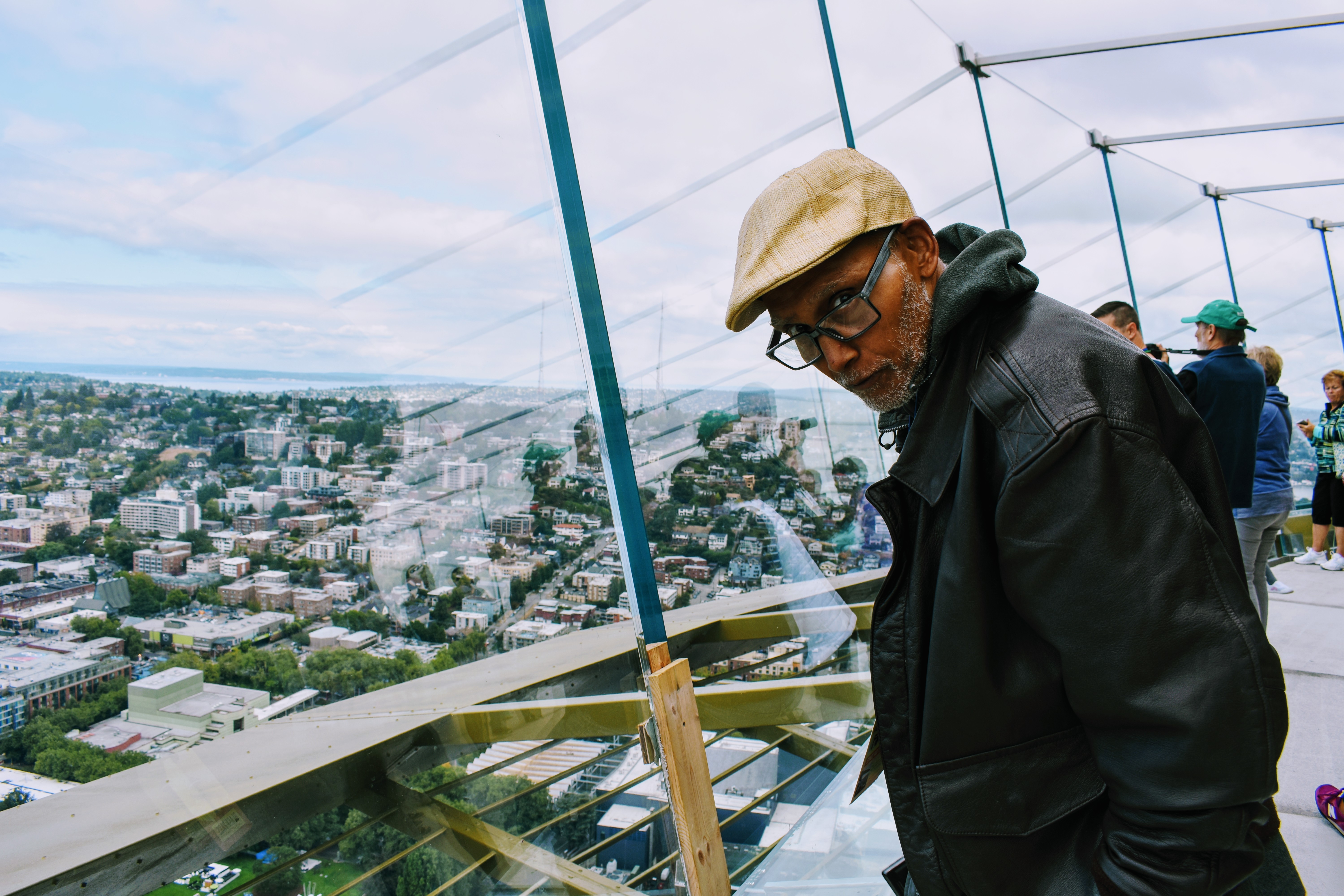 "Where are you from?" is a common question asked when people meet for the first time in Seattle, the assumption being that so few people are actually from the city.
But Randy* is. He was born at Virginia Mason hospital and raised on Beacon Hill. He seems to know everyone as he walks on the streets downtown with his easy-going, and sometimes humorously cantankerous nature. Randy knows Seattle intimately, especially Seattle's streets; he has been homeless since 1981.
Despite knowing the city like the back of his hand, up until August he'd never visited one of Seattle's most iconic landmarks: the Space Needle. When Randy off-handedly mentioned this to his REACH case manager Kevin Toth, Kevin decided that had to change.
For Randy's 60th birthday, his care team, including Kevin, his nurse Phaedra Chacona, and his occupational therapist Kathy Kannenberg, boarded the elevator with tickets to the top – generously donated by the Space Needle Foundation – to give Randy a birds-eye view of the city he knows so well from the street.
The people accompanying Randy work with him through REACH's Vital program, part of King County's Familiar Faces initiative. The Vital team partners with people who are frequently put in the King County Jail and who often use emergency services. In partnership with law enforcement, this program provides services – like healthcare, housing, and occupational therapy – to reduce recidivism. REACH was a natural choice to run this intensive case management work because of their success in other programs related to law-enforcement and their existing relationships with most of the people who qualify for Vital.
Randy's first touchpoint with REACH was through REACH's outreach program, long before Vital was launched in 2016. In fact, REACH had met with Randy on four separate occasions, through outreach and through Vital after it began, before he finally agreed to accept their services. The turning point was when REACH approached Randy at Harborview after he was hospitalized for one of his many heart-related conditions.
Randy's case manager, Kevin, describes his attitude toward service providers this way: "Randy doesn't ask for things. He has had to rely on himself and his own resourcefulness to get his needs met. He has been let down by so many service providers, that it's not surprising he would be reluctant to sign up for services when they were originally offered."
With Randy's hard work, and the support of his care team, his health has improved dramatically and he is in permanent housing for the first time in 36 years. His team checks in on him daily to ensure that he is managing his apartment and taking care of his health needs. Randy says he's doing much better since engaging with his Vital team a year and a half ago. "I don't go to the hospital nearly as much, and I haven't been to jail in a long time."
As the elevator to the top of the Space Needle started up, Randy let out an expressive gasp as he took in the view but was quiet and contemplative as he saw his city from the observation deck for the first time. His care team pointed out different landmarks, like the hospital where he was born and the apartment he lives in now.
When it was explained that the tickets were donated for him in recognition of his birthday and even had "Happy birthday, Randy!" written on the front he said, quietly, "Tell them I said thanks. You've done something very special for me."
After being ignored and discounted as a person who is homeless for so long, it seemed unfathomable to Randy that people would care enough to help him tick a box on his bucket list. A man who had spent his whole life on Seattle's streets was finally afforded a different view of his city.
This is exactly what Kevin Toth wants to do as a case manager:
"At REACH we're trained to look at what we call 'the top of people's mountains' which means we look at what they value, not just what they need. Housing, food, healthcare, we believe that everyone has a right to these things.

But providing Randy with this experience was more about doing something special for this person, in celebration of his 60th birthday. We want our clients to know that they matter to us. We want them to feel special. That means so much more than just providing the basics. This experience is one of the highlights of my career as a social worker. I am so grateful to the Space Needle Foundation for making this possible."
REACH doesn't take every client to the top of the Space Needle, but we do treat every client as a person with value. Through listening and responding thoughtfully with personalized actions, we build trust and show our clients that they matter. Through these relationships, we connect them to the services they need to live healthier and more fulfilling lives.
*Randy passed away on January 13, 2021. The ETS team continues to miss his warm smile as we mourn the loss of our friend.