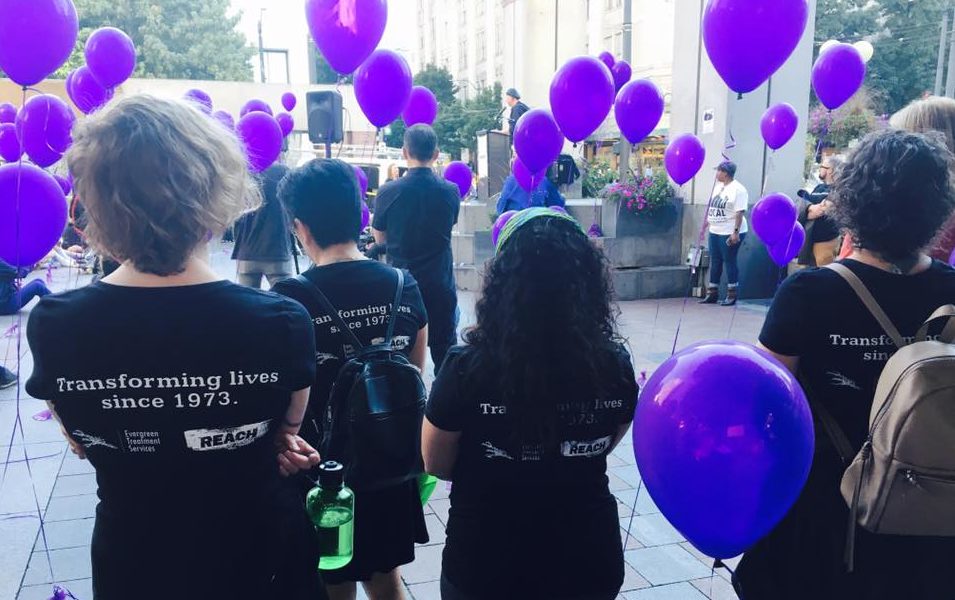 Six days a week for 52 weeks a year, nearly 3,000 people come from all over Western Washington to Evergreen Treatment Services to get the support they need to recover from opioid use disorder. The dictionary defines recovery as the regaining of something lost. Through treatment, ETS patients find courage to face the past, hope for the future, and the capacity to be in the present moment without the intense cravings and withdrawal symptoms that are the hallmark of opioid addiction. Families re-connect and friendships are rekindled. People rediscover passions and interests. A sense of self is reclaimed. They regain what was lost.
None of this is possible without community. Every year during the month of September we observe National Recovery Month – a time to celebrate people in recovery and promote the message that recovery, in all its forms, is possible and benefits us all.
On August 31st, 50 staff from our Opioid Treatment Program and REACH gathered at Westlake for International Overdose Awareness Day. Three hundred balloons floated amongst the crowd, each one representing a person who died of an overdose in King County. We stood in solidarity with families who have lost loved ones, activists working tirelessly to change the way we view drug users, and other service providers caring for this marginalized population. We added our voice to the many who are demanding that policy-makers enact change quickly to turn the opioid epidemic around.
Each of our four clinics designated a day in September to celebrate recovery with our patients. Staff gathered in our lobbies and dosing areas to engage with patients and pass out wristbands as a reminder of the daily courage it takes to change. Our patients were emphatic that our counselors are what keep them coming back. As British journalist Johann Hari says, "connection is the opposite of addiction." Positive, trusting relationships are an essential part of being human and are critical to the recovery process.
The month culminated in our first fundraiser in our 44-year history. Previously, we have had to do our work mostly in the shadows due to a lack of understanding about the effectiveness of medication-assisted treatment and to protect our stigmatized patients. However, the public is beginning to see that the war on drugs was ineffective at best, and destructive and deadly at worst. This is our opportunity. We must step up to raise awareness, inspire hope, and provide solutions. Now is the time. It is a matter of life or death. Many thanks to Joy Portella of Minerva Strategies and Mark Firmani of Firmani + Associates, Inc. for hosting a meaningful event that we hope will be the first of many.
As staff, we witness the miraculous every day. To our patients and clients, it is truly a privilege to walk with you on this journey. You are our inspiration.
By Tavia Kachel, Director of Development
To find out more or to get involved, please contact me at tkachel[at]evergreentreatment[dot]org.