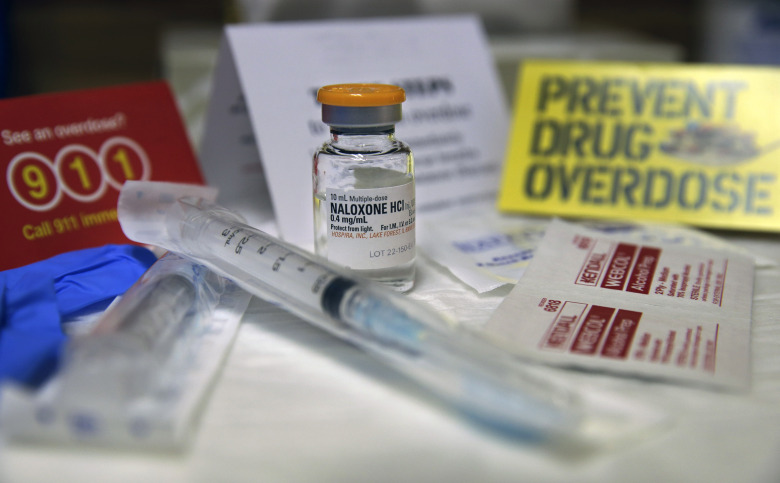 Originally published on SeattleTimes.com, May 17, 2016.
Naloxone can mean the difference between life and death, but it's not easy to get.
By Molly Carney and Michelle Peavy, Special to The Times
MORE than 500 people die of opioid overdoses in Washington state each year. This death toll has skyrocketed over the past decade as opioid addiction rates have risen, fueled by expanded access to prescription opioids and more potent, inexpensive heroin.
Increasingly, public-health advocates and researchers have shone a light on an antidote to overdose death. Naloxone, also known by its brand name Narcan, can be injected or administered intranasally after someone has overdosed. Naloxone quickly binds to opioid receptors in the brain, reversing the overdose, and frequently forces the person into a speedy, but often painfully intense, withdrawal. For many people, naloxone means the difference between life or death.
But naloxone is not the silver bullet that will end our state's — or our nation's — opioid-use epidemic.
One limitation of naloxone is that not enough people can get it. Anyone who is at risk for having or witnessing a drug overdose can obtain naloxone, but it must be prescribed. Only about 30 locations in Washington — most of them pharmacies — currently provide it. Our organization, Evergreen Treatment Services, an outpatient opioid treatment program, is stuck in naloxone limbo. We dispense opioid medications like methadone but we cannot distribute naloxone from our premises without cumbersome regulatory and practical arrangements.
Police and other emergency first responders need more freedom to legally carry naloxone, as do organizations that are likely to interact with people who are overdosing. Many Evergreen Treatment patients, for example, are in the early phases of treatment, and therefore still at high risk of overdosing or witnessing an overdose of a friend or family member. If this were to happen at Evergreen Treatment, we would not have naloxone on hand to help save the person's life.
A bill that was passed by the Legislature last week and is awaiting Gov. Jay Inslee's signature promises to improve this situation. ESHB 1671, which was introduced by a thoughtful group of state lawmakers led by state Rep. Brady Walkinshaw, D-Seattle, will loosen the restrictions on naloxone and make it easier for organizations like Evergreen Treatment to have the drug on hand in emergencies. We applaud this legislative effort.
But emergency interventions alone will not solve our state's opioid-use epidemic. We need an integrated approach, which includes expanded access to treatment, to drive down rates of overdose and address opioid addiction. Recently, the Alcohol and Drug Abuse Institute at the University of Washington and the U.S. Attorney's Office convened a group of law enforcement, treatment specialists, policymakers, public-health specialists and others in Eastern Washington to discuss what this approach could look like.
Opioid-use disorders are medical disorders that dramatically alter a person's brain chemistry and respond well to treatment. Recovery does happen, but it takes time — months, years or even a lifetime. The combination of medication-assisted treatment and behavioral interventions that help people learn how to live drug-free has been shown to be the best way for patients to recover and avoid relapse.
We also need to eliminate the stigma that allows opioid addiction to remain in the shadows and prevents people from seeking help. We hear the ugly opinions often: Addicts don't deserve treatment. What these critics do not see is the tremendous courage and persistence of patients we meet every day. In many cases, Evergreen Treatment patients have lost everything — families, jobs, homes — to addiction and they are painstakingly piecing their lives back together while pursuing an intense daily regimen of medications and visits with counselors and health-care providers. These patients deserve respect and support. Recovery does happen and treatment does work.
Bolstering treatment and combating stigma make our communities stronger and saves taxpayer dollars. According to the state Department of Social and Health Services, the risk of felony conviction is 83 percent lower for those in methadone treatment for more than one year, compared to opioid addicts who are untreated. DSHS also explains that treatment of opioid addiction saves Washington state taxpayers $765 per patient a month in Medicaid health-care costs, compared with not providing this treatment. It is cost effective, and it works.
It is important that Washingtonians support expanded access to naloxone and its lifesaving potential. But it is not a cure-all. When people are whiplashed back to life with naloxone, their journey may be just beginning. We need funding, infrastructure and supportive policies to keep them alive.